---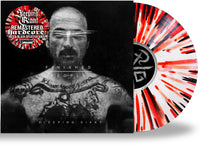 Sale
BWV1420 SLEEPING GIANT - FINISHED PEOPLE VINYL 637405143737
SLEEPING GIANT - FINISHED PEOPLE (*NEW 2022, Bombworks Records)

***We strongly encourage you to purchase hassle-free low cost insurance for your order at checkout. It will cover your entire order against damage, not just this item. 
Limited to just 200 units
2022 remaster by Bombworks Sound
First time ever on Vinyl
Black poly-lined inner sleeve
Guest appearance by Levi the Poet
Brook Reeves of Impending Doom
Originally released in 2014 on Century Media Records



ABOUT THE ALBUM
The Salt Lake City based band produced a monster of a hardcore record with enough heart to drill the band's infectious hooks into your brains. "Finished People" capitalizes on congregational hardcore worship anthems and challenges listeners everywhere to boldly love and spread the message of Jesus. 
Tracklist

1. "Clutches" 3:32

2. "Overthrow" (feat: Brook Reeves of Impending Doom) 2:45

3. "Finished People" (feat: Joe Musten of Beloved and Advent and Nate Rebolledo of Xibalba) 3:05

4. "Death Knell" (feat: Bruce Lepage formerly of 100 Demons) 3:13

5. "Son Of God, Son Of Man" 3:44

6. "Christus Victor" 2:47

7. "Violence" (feat: Levi the Poet) 3:03

8. "Brother's Keeper (The Easter Rising)" 2:39

9. "The Great Divorce" (feat: Drew Di Jorio of Stray from the Path) 3:14

10. "Blood Meridian" (feat: Joel Muniz of Dynasty) 3:07

11. "Victory" 5:05

Total length: 36:15
JESUS FREAK HIDEOUT REVIEW
In the past year, we have seen an outbreak of chatter regarding metal bands in the Christian scene. Are they Christian? How many of their members are even faithful anymore? Are they just pretending? And it doesn't help that lyrics are so vague these days, even from artists who profess their faith, that no sound example can be made of them. Personally, I'm sick of it. That's why California's Sleeping Giant are so refreshing. They do exactly what Christians with the talent for music and gathering people in front of them should be doing. They are worshipping and ministering wherever they go.
In their fourth studio album, Finished People, they have harnessed a specific theme: that those who are downtrodden, who have given up, who are seen as useless and finished, still have limitless potential to be used by God in ways that no human could predict. In the title track, vocalist Tommy Green screams, "God sees saints in the cell blocks/We see revival in chains/ The world calls us the finished ones/ God forgive me for bringing tears to my own/I hope you won't forget me/or I am finished."
The ferocity with which they deliver their message is hard to ignore. Each song opens in tones of impendence, with calls of duty just pounding down like a hammer to your ears. "There is a sickness and we are the cure/The whole world will pass away but we will endure," for example, from the track "Blood Meridian." "I have the DNA of Heaven in me/Strongholds will fall when I pray," from "Victory."
Musically, I can't think of a better genre to relay this kind of God-desperate message than the blood-thirsty hardcore that Sleeping Giant dishes out. The original punk/hardcore spirit comes out in waves. They intend to pummel listeners with real zeal, real messages, crying out against upside down systems and broken standards. They scream and play with bravery, and unabashed honesty to a crowd that they really care about.
In past albums, we have heard a standard fare of hardcore yells and metalcore breakdowns, and a mechanical ear could say the same about Finished People, but suddenly from Kingdom Days In An Evil Age to this, we have a significant increase in quality. Guitar notes are sharper, the drums and lowtones hit harder, and the melodies in the clean vocals have improved drastically.
If you weren't a fan of Sleeping Giant before, Finished People might change your mind.