---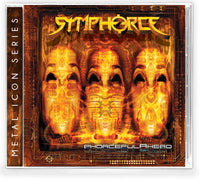 Sale
IN STOCK & READY TO SHIP
SYMPHORCE - PHORCEFUL AHEAD + 3 Bonus (*NEW-CD, 2023) Brainstorm Vocalist/Melodic Prog Power!
Officially licensed from Metal Blade Records
Original release date 2002
Remastered by Rob Colwell / Bombworks Sound
Lead vocalist, Andy B. Franck is also Brainstorm lead vocalist
Markus Pohl (Mystic Prophecy/Powerwolf) featured on guitar
Cede Dupont (Freedom Call, Downspirit, Silent Circus)
12-page booklet with lyrics/pics
3 bonus demo tracks
Vinyl coming in 2024
Part of the exclusive Metal Icon Series
For fans of Brainstorm, Kamelot, Symphony X, Firewind, Sacred Warrior, and Sonata Artica.
BPCD1635 SYMPHORCE - PHORCEFUL AHEAD 637405142761
ABOUT THE ALBUM
Prepare to journey back in time to the head-rushing glorious days of symphonic power metal with the highly-anticipated CD reissue of SYMPHORCE's 'PHORCEFUL AHEAD,' now expertly remastered by the renowned Rob Colwell of Bombworks Sound. Originally unleashed in 2002 on Metal Blade Records, this album remains a hidden gem within the metal pantheon. Produced by the legendary Achim Kühler (noted for his work with Primal Fear, Sinner, and Brainstorm, among others), 'PHORCEFUL AHEAD' showcases SYMPHORCE's musical prowess. Having shared stages with iconic acts such as Mercyful Fate, Grave Digger and Kamelot, and graced revered metal festivals including Wacken Open Air and Summerbreeze, SYMPHORCE has proven their mettle on stage. This exclusive CD reissue, limited to just 500 copies and proudly presented by Brutal Planet Records, is a collector's dream. It not only includes the timeless album but also features three captivating bonus demo tracks that offer a glimpse into the band's creative process. Complemented by a 12-page booklet filled with lyrics and rare photographs, this release is an absolute must-have for devoted metal enthusiasts. And lest we forget, the lead vocalist of SYMPHORCE also fronts the mighty German metal act, Brainstorm. This reissue isn't just an album; it's a resurrection of metal history, a tribute to the enduring power of this band, and an essential addition to the esteemed Metal Icon Series." 

"SYMPHORCE's 'PHORCEFUL AHEAD' stands as a shining testament to the golden era of symphonic power metal, and this reissue reverently honors its legacy. Rob Colwell's remastering breathes fresh life into these classic tracks, granting fans the opportunity to experience the album's grandeur and intensity in an entirely new light. Featuring three bonus demo tracks that provide insight into the band's creative evolution, along with a 12-page booklet filled with lyrics and rare imagery, this reissue serves as a treasure trove for both devoted fans and newcomers alike. Limited to a mere 500 copies, it underscores the enduring allure of SYMPHORCE's music and its rightful place within the exclusive Metal Icon Series. Do not miss this unique chance to possess a fragment of metal history and rediscover the potency and majesty of 'PHORCEFUL AHEAD' as it was destined to be heard. For fans of Brainstorm, Kamelot, Symphony X, Firewind, and Sonata Artica.  

TRACKS
1 Speak My Mind
2 Unbroken
3 Slow Down
4 Longing Home
5 Moving In Circles
6 Falling Through Again
7 Your Blood, My Soul
8 Rage Of Violence
9 Touched And Infected
10 Nothin´ Left
Bonus Tracks
11 Where Night Returns (Demo ´02)
12 Force Fed (Demo ´02)
13 In Times Of Grief (Demo ´02)

Speak My Mind/Unbroken/Slow Down/Longing Home/Moving In Circles/Falling Through Again/Your Blood, My Soul/Rage Of Violence/Touched And Infected/Nothin´ Lefr/Where Night Returns/Force Fed/In Times Of Grief

CUSTOMER REVIEW
This in my opinion is how power metal should be played. What a huge and heavy sound. The production is so fat yet crystal clear it will bring you to your knees. Possibly the best production I have ever heard. Not forgetting the songs they are very catchy, melodic, full of great riffs and solos. No happy or silly sounding choruses. The singer Andy B. Frank is simply one of the best out there today reminding me a lot of Zak Stevens (ex-Savatage) but I also hear a little Dirk Thurisch (Angel Dust) and Bruce Dickinson for good measure. He is also the frontman from another excellent band called Brainstorm who are also on the heavier more aggressive side of power metal. Musically Symphorce sounds like a combination of Brainstorm, Nevermore, Iced Earth, and Angel Dust. There is even a bit of an old Megadeth touch to boot. No wonder I like this band so much. After the somewhat forgettable opening track Symphorce delivers the goods with the rest of the album. Good song writing with modern and mature arrangements. If you are into very heavy/melodic power metal and top-quality musicianship this album is a must!

METAL REVIEWS
Andy D. Frank is back with his band Symphorce.

Also known as the singer of Brainstorm, Andy continues to deliver new album years after years (almost !) with his heavy/power metal band. PhorceFull Ahead constitutes their third effort after Truth To Promises (1999) and Sinctuary (2000) and is the most mature record of the band, even though I was expecting something better. May be I placed my expectation too high ... out of reach.

So what shall you expect from German "metalers" who are devoted to heavy, power and thrash metal. Well, you shall expect melodies, catchy riffs, strong chorus and of course the wonderful & powerful voice of Andy B. Franck. You know, Andy impressed me a lot on Ambiguity - that was his first appearance for Brainstorm - and he is like these good old wines ... better & better as time goes by. On PhorceFull Ahead, the guy is brilliant.

The new songs have all a good sense of power with tons of 'thrashy' based riffs and plenty of good transitions giving a lot of breath to the listener. However, theses songs are lacking those little nearly indescribable details that make songs and/or albums stick in your head for days and nights. From the opening moments of the classical-influenced Metallica's black album (Speak Of Mind), the listener is submerged in a classical heavy/power metal journey. I would have started the record with the second track Unbroken instead of Speak Of Mind, which is a bit too "slow" for a start.

As time goes by, the album is loosing its initial power, its initial intensity and becomes predictable. Slow Down & Longing Home are the good surprises here as these songs are printed in your mind easily. Unfortunately, this will not be the case for the remaining tracks. A good record for sure, but somehow very linear ... as sometimes I had to check which song I was listening to.

Symphorce and Brainstorm are walking the "same" heavy metal ground. In other words, if you like Brainstorm you gonna like Symphorce and vice versa. The frontier is very thin between these two bands, but I will rather say that Symphorce is another version of Brainstorm. Don't misunderstand me, these guys are playing powerful heavy metal, but let's say that the last Brainstorm's album (Metus Mortis) had an "hard-core" side and this PhorceFull Ahead has a "nu-metal" touch. I suppose that the recent success of Rammstein, Papa Roach or Rob Zombie is slowly but surely influencing the classical wave of heavy metal bands, who are also including these type of "new sounds" when they compose. German heavy metal bands are metamorphosing ... and Symphorce is one of these bands who try new "things". No worries, this is still good old heavy/power metal (Metallica - black album). Let's just say the sound is ... transmuting !

If your are into classical heavy metal, I suggest you to check before you buy. If you like evolution, "put an ear" on the new Symphorce.