---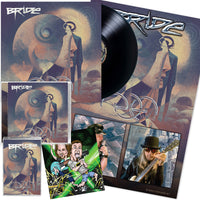 Sale
We strongly encourage you to purchase 

hassle-free low cost insurance

 for your order at checkout. It will cover your entire order against damage, not just this item. 

Bride - Are You Awake Bundle #4 - CD + Tape + Vinyl  (50 available) 
(1) Silver CD

(1) Cassette (only 100 made)

(1) Vinyl Record (only 200 made)

(1) 13 x 9 band poster (folded in half -

 only 100 posters/while supplies last

)

(1) Lithograph Cartoon Print - 5.5 inch x 4.75 inch
ABOUT THE ALBUM
A few of the great albums are so crisp, so tight, and filled with so many great riffs they make fans think of them as greatest hits albums.  Boston's debut, Metallica's Black Album, Deliverance's Learn, Black Sabbath's Paranoid, and Led Zeppelin's IV come to mind.  Bride already had an album like that - one that stormed into the hearts of fans with reckless abandon - it was called Snakes In the Playground.  These albums are simply so good in every way, people think of them as a greatest hits collection - even though they are cohesive rock masterpieces. Are You Awake is one of those iconic albums with one hit after another. 12 tracks in all - fans will be treated to a Greatest Hits package of all new Bride songs! This is the band fans have come to know and love, but these songs, these tracks, these lyrics, these riffs, these unrelenting vocals - they are such masterpieces, we don't want to compare them to any previous Bride albums (a first, right!). Many wondered if Bride had peaked with Here Is Your God (2020), as it was hard to imagine the band growing and improving on such a perfect album, yet Are You Awake shows fans the artistic creativity of Bride is a never ending stream of God-given talent.  Available on CD (Silver and GoldMax), blue cassette, and black vinyl - and check all the listings and bundles for details - a classic album like this should be revered and celebrated. Albums this strong are remembered for a very long time. Could this be the last Bride album ever???? If it is, they are going out on top! Don't forget you can get the other two tracks recorded for this album on the 6-track Bride CD Eyes Wide Open.  
Track Listing
1 Ain't No Loser
2 I Want to Live Again
3 We're All Going To Die
4 Hammer Down
5 12 O'Clock Apocalypse
6 Under My Skin
7 On With The Show
8 Are You Awake
9 Trippin'
10 All I Wanted
11 Human State
12 Pull The Trigger


Ain't No Loser/I Want to Live Again/We're All Going To Die/Hammer Down/12 O'Clock Apocalypse/Under My Skin/On With The Show/Are You Awake/Trippin'/All I Wanted/Human State/Pull The Trigger