---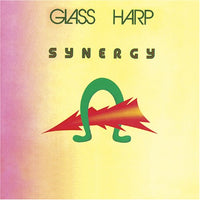 GLASS HARP - SYNERGY (*Pre-Owned Vinyl Gatefold, 1971, MCA) Phil Keaggy Psych Monster

JACKET: VG- (well cared for gatefold - but various minor signs of wear / age)
VINYL:  VG 

Glass Harp is an American rock band from Youngstown (Austintown), Ohio. They were formed in 1968, and soon became a wellknown, psychedelic rock band in northeast Ohio. They were popular among the growing anti war movement and the Jesus movement alike, and often played at Kent State University where four students were killed by the Ohio National Guard on May 4,1970. Glass Harp has never really stopped playing, but is first and foremost a Christian Rock Band and a vehicle for hailed guitarist, vocalist and songwriter Phil Keaggy.


A1 One Day At A Time 3:40
A2 Never Is A Long Time 3:25
A3 Just Always 5:05
A4 Special Friends 2:42
A5 Coming Home 3:31
B1 Song Of Hope 4:21
B2 Child Of The Universe 3:00
B3 Mountains 2:54
B4 The Answer 2:38
B5 Dawn Of A New Day 3:57