---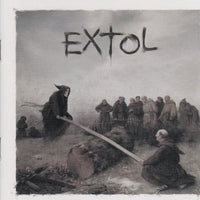 Sale
1 Pre-owned CD in very well cared for condition!
Tracklist
1 Grace For Succession 4:12
2 Paradigms 3:40
3 Psychopath 3:47
4 Blood Red Cover 3:37
5 26 Miles From Marathon 4:12
6 Confession Of Inadequacy 3:47
7 Scrape The Surface 3:21
8 Thrash Synergy 5:20
9 Aperture 3:11
10 Emancipation 3:20
11 Nihilism 2002 4:09
CUSTOMER REVIEW
I am not shocked by the great change of style/sound of extol with this album, probably due to the fact that I got ahold of the Paralysis ep(swedish only release...find a good import store like blastbeats). It showed a huge shift of direction, and Synergy is mostly a continuation of it. Everybody else who has reviewed this cd has already said it: the cd is entirely different than what you are used to. Burial was some of the best harmonic death metal ever. Undeceived was just a brutal death metal kick in the face with tons of beautiful, complex melodic strings/vocals underlying it. This time around, Extol was listening to the long extinct and out of print band Believer in order to do an accurate cover for the Paralysis ep. It seems that they realized what a great band they had found and decided to incorporate the Believer thrash sound into their own chaotic mix of melodic death/hardcore. This album is a nonstop technical metal masterpiece. Imagine the insane leads that Rocky Gray pulls off on Living Sacrifice cds being done the entire time the whole cd. The rhythm guitar is more insane than most lead parts, so just imagine the complexity of the leads! This cd is quite possibly some of the most technical, brutal, intense music I have ever heard. Evolution of the fittest usually favors bands who need to grow in their style. Extol could've easily become one of the greatest death metal bands of all time, with sufficient promotion, using their Undeceived sound. However, the sign of a truly great band is the ability to change and evolve in their careers into a bigger, better sound. Extol proves their greatness with Synergy. My only complaint with this album is that total play time comes in much shorter than any of their previous full lengths. But due to the style shift, this is understandable. If you like metal at all, or just appreciate a great show of talent, then buy this cd.