---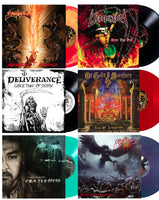 Sale
6x LP LIMITED RUN VINYL BUNDLE BLOWOUT
Get these classic limited run vinyl releases at less than HALF the suggested retail price!  For LESS than $15 a vinyl, you get six brilliant and highly collectible titles and a SAVINGS of $120.20!!!
All of these are factory sealed and in near mint/mint condition (NEW)
Only 25 bundles available.  Permission to Win!
1.  DETRITUS - PERPETUAL DEFIANCE (Thrash)
2.  ULTIMATUM - INTO THE PIT (Thrash)
3.  OF GODS & MONSTERS - SONS OF ARMAGEDDON (featuring Tim Gaines of STRYPER + big name mainstream metal icons)
4.  JIMMY P BROWN II- ERASERHEAD (brilliant progressive metal)
5.  A HILL TO DIE UPON - INFINITE TITANIC IMMORTAL (genius black/death metal)
6.  DELIVERANCE - GREETING OF DEATH (old school thrash)