---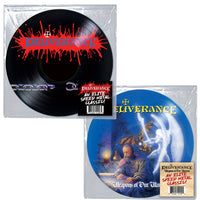 Sale
 BUDGET 2-VINYL BUNDLE DELIVERANCE FULL COLOR VINYL PICTURE DISC - 1989 DEBUT + WEAPONS OF OUR WARFARE (2023, Retroactive Records) Faster For the Master Thrash!!
 ***We strongly encourage all orders to purchase HASSLE FREE INSURANCE during checkout. 
WHAT OTHERS ARE SAYING ABOUT DELIVERANCE - DELIVERANCE (1989)
"One of the first major thrash releases in the Christian market – combining an early Testament/Metallica feel – it still gets the head banging, fist pumping and air guitar screaming." – Jeff McCormack (Heaven's Metal Magazine)
"If You Will" into "The Call" is almost as good as metal gets."
                         —Doug Van Pelt (HM Magazine)
This record would forever change and impact me and the Christian metal music scene as we knew it! — Bill Bafford (Roxx Records)
Groundbreaking album with its joining of melodic speed metal and thrash with high end and soaring vocals. Critics back in the day, as a result, described Deliverance as featuring a 'Metallica cross Queensryche' sound. The segue between "If You Will" and "The Call" ranks among the all time great Christian metal moments. 
                                                             AngelicWarlord.com
Features significant contributions from original member of both Deliverance and Vengeance (Rising), Glenn Rogers (also, be sure to get Glenn's album with the classic thrash band, Heretic called "A Time of Crisis" on CD and Vinyl - it's brilliant).

The first Deliverance debut vinyl reissue to features the original artwork 

First time ever on picture disc color vinyl


Includes two non-LP bonus tracks / 1st time on vinyl

#31 on HM Magazine's Top Christian Rock Albums of All-Time
#3 on Heaven's Metal Magazine's Top 100 Christian Metal Albums of All-Time
#9 on the CMR Top 100 Christian Metal Albums Of All Time

#14 on Angelic Warlord's Top 50 Christian Metal & Hard Rock Albums of the Eighties

Produced, recorded, and mixed by Bill Metoyer (Flotsam and Jetsam, Trouble, Fates Warning, DRI, Slayer)
ABOUT THE ALBUM
Frightening, awe-inspiring, and absolutely relentless, Deliverance's self-titled album dropped onto the scene in 1989 with all the finesse of a metallic sledgehammer across the forehead. In 1987, Deliverance had made their presence known in dramatic fashion on the California Metal compilation (a sampler in the vein of Metal Blade's Metal Massacre compilations) with "Attack" being the very first thrash/speed metal song with a strong Christian message to ever be released. Overwhelmed with anticipation, fans lined up for two years trying to buy more of this West Coast speed metal as phenomenal as anything released by Exodus, Death Angel, Metallica, and Anthrax. The long wait ended with the release of 1989's self-titled debut, and fans were not disappointed. Having enlisted the production skills of famed mainstream metal producer Bill Metoyer (Flotsam and Jetsam, Trouble, Fates Warning, DRI, Slayer) the debut exuded all the pure destructive power for which fans could have hoped. Every note is executed with jaw-dropping levels of scientific precision. Jimmy's vocals are both powerful and soaring. The 2023 Retroactive reissue is a brand new 2022 Vinyl remaster (Rob Colwell of Bombworks Sound) and includes two non-LP demo songs as bonus tracks. This is pure metallic brilliance packaged with a genius 12-page booklet laid out by NoLifeTilMetal's Scott Waters. This 2023 picture disc color vinyl fixes any song transition issues from the past.   This is THE ultimate reissue of one of a handful of Christian metal's ultimate albums.    
Tracklist
1 Victory 3:47
2 No Time 4:33
3 Deliverance 3:07
4 If You Will 4:23
5 The Call 4:09
6 No Love 3:24
7 Blood Of The Covenant 4:56
8 Jehovah Jireh 3:43
9 Temporary Insanity 5:30
10 Awake 6:14
Bonus Tracks
11 Stand Up and Fight (1985 demo)
12 Hold On Tightly (1988 demo)
***PRE-ORDER RELEASE DATE: March 20th, 2023

*** Please place a separate order for all pre-orders if you don't want your in-stock items held up. All pre-order are non-refundable. No exceptions. All items will ship together.

***We strongly encourage all orders to purchase HASSLE FREE INSURANCE during checkout. 
RRCD1636 DELIVERANCE - WEAPONS PICTURE DISC VINYL 637405141092
WHAT OTHERS ARE SAYING ABOUT WEAPONS OF OUR WARFARE...

A high point of thrash, Christian or not. - 95%
                                            Metal-Archives Reviews
 
Another album that has gained a well-deserved iconic reputation within speed metal and melodic thrash circles is 1990 Intense Records Deliverance sophomore album Weapons Of Our Warfare.
                                 Angelic Warlord Reviews

In 1999 Lars Ulrich, drummer for the Metallica, hosted a show in which he named Deliverance's "Weapons of Our Warfare" as one of his Top 10 metal videos of all time.
Solid sales afforded a bigger budget for Weapons of Our Warfare, which is still
mentioned with hushed reverence among Christian metalheads as one of the best speed metal albums of all time.
                                Mark Allan Powell / Encyclopedia of CCM
#3 on the Christian Metal Realm's (CMR) Top 100 Christian Metal Albums

#16 on Angelic Warlord's The Top 50 Christian Metal & Hard Rock Albums of the Nineties

2022 Remaster by Rob Colwell of Bombworks Sound 
First time ever on Picture Disc Color Vinyl
Includes 2 bonus tracks from the

 

Weapons...sessions one demo tracks and one studio track recorded for the album, but not used
1st time on vinyl for the bonus tracks
Produced by George Ochoa (Recon/Worldview/Deliverance)
Mixed By – Bill Metoyer

 

(Flotsam and Jetsam, Trouble, Fates Warning, DRI, Slayer)



ABOUT THE ALBUM
Only a year after the band released the historic Self-Titled debut, the band released their 1990 tour de force: Weapons of Our Warfare. Metallica created Master of Puppets, Slayer bludgeoned the world with the classic Reign In Blood, Flotsam & Jetsam had Doomsday..., and Exodus boasted Bonded By Blood - all albums that would create the standard for all other speed metal releases. Weapons of Our Warfare was that album for Deliverance. It cemented the band's place as iconic speed metal royalty. To this very day, Weapons is still mentioned with hushed reverence among Christian metalheads as one of the elite speed metal albums of all time.

Guitarist Glenn Rogers had exited the band and former Recon guitarist George Ochoa had joined in his place. Weapons of our Warfare turned out to be one monster of a record, a genuine speed metal classic. Each and every song is played with a feverish fury, and once again the song writing is outstanding. Since 1985, lead vocalist and rhythm guitarist, Jimmy Brown had been crafting some of the tastiest techniques for complex rhythms and highly technical rhythm guitar. Brown's guitar mastery drives the album from start to finish, setting new standards of power, precision, and stamina. The album shows marked musical growth with several adrenaline-driven, extended, multi-sectioned compositions foreshadowing the band's later progressive epics. And the trade-off guitar leads by Brown and Ochoa provide first rate riffage that will satisfy even the most skilled Guitar Hero addict.

Weapons of Our Warfare (2023) takes all the magic from the original release and magnifies it featuring a complete 2022 Digital Remastering by Rob Colwell of Bombworks Sound. It even includes two bonus tracks on vinyl for the first time ever - "Rescue" from the original Weapons recording sessions, but never used, and "Greetings of Death" (not the 1985 demo version).  For fans of Believer, Slayer, Exodus, Metallica, Tourniquet, and Anthrax.

Tracklist
1 Supplication 1:47
2 This Present Darkness 2:47
3 Weapons Of Our Warfare 4:21
4 Solitude 6:02
5 Flesh & Blood 7:23
6 Bought By Blood 3:19
7 23 5:44
8 Slay the Wicked 4:01
9 Greetings of Death 2:47
10 If We Faint Not 4:25
***Bonus Tracks (1st time ever on vinyl)
11. Rescue (Studio version recorded for the Weapons album but not used)
12. Greetings Of Death (***Weapons of Our Warfare Demo Track)