---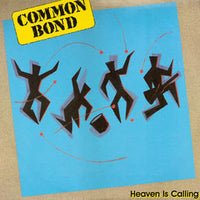 COMMON BOND - HEAVEN IS CALLING (*NEW-VINYL, 1986, Frontline)
Christian Alternative for fans of The Cure, Daniel Amos (members play on this LP), and The Smiths!  
Common Bond
Formed in 1986 somewhere in the US, Common Bond was one of the few Christian rock bands with heavy new wave influences during the mid 80's christian music era.
They released only two records, and their second, 'Anger Into Passion' is a pretty decent effort.  Common Bond was made up of Steve Durham on guitar, Chuck Cummings on drums and Kenny Samuels on bass and lead vocals.
Tracklist
A1 Matter Of Time 4:37
A2 I'm In Control 2:45
A3 Heaven Is Calling 2:51
A4 Bittersweet 3:48
A5 Yshua 3:05
B1 My Direction 3:50
B2 Savor My Saviour 2:40
B3 The Dickens 3:50
B4 For You 2:30
B5 Imagining 3:20