---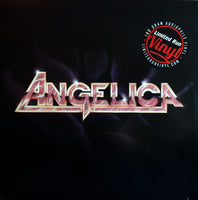 Last copies - All have small corner bends on top right side (thanks USPS). 
Remastered by Rob Colwell of Bombworks Sound.

Angelica was a late 80's early 90's Christian Melodic Hard Rock/Metal AOR band  with a very 80s commercial and melodic arena rock/metal/AOR and the brainchild of guitarist extraordinaire, Dennis Cameron. Dennis has been compared to the greatest guitarists of all time such as Steve Vai, Eddie Van Halen, Eric Johnson and Joe Satriani.  He started playing guitar at the young age of 6.  In 1983, he joined a cover band called Antix, playing with them until 1986, moving to the band Masquerade in 1987. Angelica debuted in 1989 as the first of a 5 album deal with Frontline Records. This  album is the only one to feature vocalist Rob Rock (Impelliteri) on all but the last track "Face To Face" which was sung by Ken Tamplin (Shout).  Angelica was cult-like release that brought in fans from all over the globe. This 80s commercial melodic metal/AOR album and has been completely remastered and reloaded. 

For Fans of Shout, Tamplin, Prophet, Strangeways, Alien, Unruly Child, Stryper, Crystavox, Joshua, Mr. Big, Frehley's Comet or Sammy Hagar.
 
Angelica - Their debut album, the only one to feature vocals by Rob Rock (Impelliteri/Driver), on all but one track ("Face To Face") which was sung by Ken Tamplin and is one of those few cult like release that brought in fans from all over the globe.  It's melodic with rippin' guitars.

Tracklist
A1 There's Only One Hero
A2 Are You Satisfied
A3 I Believe
A4 Danger Zone
A5 Shine On Me
A6 Only A Man
B1 One Step At A Time
B2 Will I Ever Learn
B3 Take Me
B4 Ahh!
B5 S.O.S.
B6 Face to Face
Vocals – Ken Tamplin