---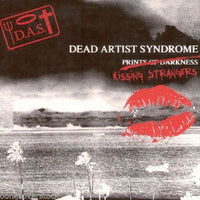 Featuring a "Who's Who" of the Christian Alternative Rock community on KISSING STRANGERS - the depth and diversity of people contributing to this release reflects the influence and importance of the man commonly referred to as the "Goth Father" of Christian alternative rock, Brian Healy. Healy is the artistic brainchild behind Dead Artist Syndrome (D.A.S.), who released classic albums on both Blonde Vinyl, and Alarma Records in the 90's.
Amazingly talented folks who contributed to Kissing Strangers are:
Brian Healy (Dead Artist Syndrome)
John Piccari (Dead Artist Syndrome)
Derri Daugherty (The Choir, The Lost Dogs, Kerosene Halo)
Ric Alba (Altar Boys,Undercover)
Michele Bunch Palmer (Adam Again)
Steve Hindalong (The Choir,The Lost Dogs, LSU)
Michael Knott (LifeSavers, LSU, Aunt Betty?s)
Gym Nicholson (Undercover, Boys Club, Steve Taylor)
Marc Plainguet (Gadget, Graveyard Cafe)
Ojo Taylor (Undercover)
Fans will find here what won them over time and again on past releases - dark, brooding music with layers of depth and feeling - and lyrics that balance compassion, brokenness, the irony of life, faith, and honest (even painful) reflection on the human experience.
The cover of Pink Floyd's "Comfortably Numb" is an epic re-work of an iconic song. The rest of the album reflects the artistic maturity and growth of not only Healy, but his band mates as well! The new album by D.A.S. is everything and more than fans could have hoped for!
For fans of Leonard Cohen, Sisters of Mercy, David Bowie, and Pink Floyd!
Tracks:
MISERY BABE
KISSING STRANGERS
13
CRAZY GIRLS
MIRROR
FIRST WE TAKE MANHATTAN
A BOY AND A GIRL
DRONE
COMFORTABLY NUMB
JESUS HOLD ME CLOSER