---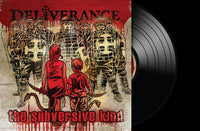 DELIVERANCE - THE SUBVERSIVE KIND (*NEW-BLACK VINYL) 
Roxx Records and 3 Frogz Records are set to officially release the brand new Deliverance album 'The Subversive Kind' worldwide this February.
'The Subversive Kind' is a true return to form for thrash pioneers Deliverance, boasting 8 brand new tracks that truly bring that classic thrash sound back. Bill Bafford of Roxx Records had this to say about the new release 'We are very excited to once again be partnering with 3 Frogz and Deliverance to bring you this awesome new thrash release. The fans that have been requesting a 'Weapons part 2' will be ecstatic with this new release and I'm going to go out on a limb and say that this new album is the bands 'Reign in Blood.'
'The Subversive Kind' releases worldwide February 23, 2018 on Vinyl, CD and digital formats featuring a Limited Edition vinyl pressing of only 500 pieces. The vinyl variations include 100 on green vinyl that was exclusive to campaign backers, 150 red vinyl and 250 black vinyl. The CD version is packaged in a jewel case with 8 panel insert, and for you digital fans it will be available at all of your favorite digital retail outlets.
Track Listing: 
Side A: 
1. Bring 'Em Down 
2. Concept of the Other 
3. Center of it all 
4. The Black Hand
Side B: 
1. Epilogue 
2. Listen Closely 
3. The Subversive Kind 
4. The Fold