---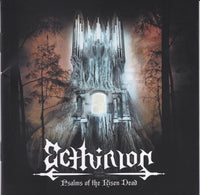 Sale
ECTHIRION - PSALMS OF THE RISEN DEAD (*NEW-CD, 2018, Soundmass)
16 page insert jewel case - brilliant prog power metal with some death metal influences. 
Formed in 2008 and releasing their debut EP on Soundmass in 2009, Ecthirion have been slowly and meticulously working on their follow-up ever since. 2018 sees the culmination of this work in the release of the UK band's full-length album "Psalms of the Risen Dead".

An orchestral metal band with a broad range of influences and contrasts, Ecthirion's aim has always been to create unique and thought-provoking compositions, both musically and lyrically. You will hear elements of power metal, death metal and even tech death, with Eastern and folk influences bringing variety. Also very much inspired by nature, some songs are reflective of raging torrents, while others are brooding and serene.

An array of people contributed to the project – 6 vocalists and several classical musicians who help to create an authentic neoclassical sound. The album features belting vocal performances from Celso Alves (Allos) and Eugen Dodenhoeft (Far Beyond), as well as David Cooney's (Jorvik) intense screams contrasting with emotive female vocals. With riffy guitars and intense drumming, "Psalms of the Risen Dead" is a spiritual journey for every listener to embark on, with lyrical themes of personal struggle, death, conquering sin and the brevity of life. The accompanying 16-page booklet illustrates this opulent metal musical, ending with death and what comes after.

Recommend for fans of epic symphonic, prog, extreme, power metal – Kamelot, Symphony X, Nightwish and Dimmu Borgir.