---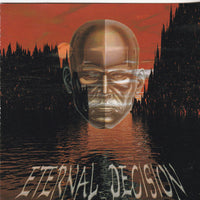 *AUTOGRAPHED by Tommy Torres!!!
***BAND AUTHORIZED NOT A CD-R - Manufactured CD
ETERNAL DECISION - ETERNAL DECISION (*NEW-CD, 1996, Godfather Records) Thrash Christian
CUSTOMER REVIEW
ETERNAL DECISION HAVE BEEN ONE OF MY FAVORITE BANDS SINCE I HEARD HUNGER THOUGHT IT WAS UNRELEASED METALICA OR MEGADETH LIKE EVERYBODY ELSE...BUT I SEARCHED AROUND AND FOUND OUT THAT WASN'T THE CASE.....I NOW LISTEN TO MORE CHRISTIAN HEAVY METAL NOW......SO FAR SO GREAT
CUSTOMER REVIEW
I made the horrible mistake of getting rid of this disc in CD purge a few years ago. Now I had to pay $70 to get it back again. Well worth it though as this album just kicks total a**. If you like Black album era Metallica and are a Christian then this disc does no wrong!!! Honestly it doesn't anyway but some people don't like Christian lyrics in metal of course.
Tracklist
Risen 3:55
Power 3:15
The Search 5:48
Overflow 3:30
Things I Say 4:25
Fearless 4:48
Imminent Destruction 4:12
Alive 5:10
Turn 4:26
Hunger 5:40
C.T.G. 4:00
Stomping Ground 4:15