---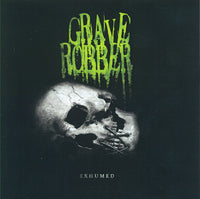 GRAVE ROBBER - EXHUMED (*NEW-CD, 2011, Rottweiler) horror punk metal
Digipak
Tracklist
1 Army Of The Dead
2 They Hate You
Written-By – FBS 
3 Altered States
4 Fill This Place With Blood
Lead Guitar – Tim Bushong
5 Lion Of Judah
Written-By – Our Corpse Destroyed
6 You're A Mean One, Mr. Grinch
Bells [Jingle Bells] – Tim Bushong
Voice Actor [Cindy-Lou Who] – Riley Browning
3:13
Original 2005 Remastered Demos
7 Reanimator
8 Bloodbath
9 I Wanna Kill You Over And Over
10 Screams Of The Voiceless
11 I, Zombie


CUSTOMER REVIEW
In case you might not have heard, Grave Robber is a christian horror punk band. They draw heavily on The Misfits and have added elements of early era The Damned plus the theatricals of GWAR, Slipknot and Lordi. The musical style is gothic hard rock with a healthy dash of punk and metal. The vocals are a tuneful bellow that sounds like a cross between Johnny Cash and Joey Ramone.

Grave Robber is visually shocking with their horrific looking costumes and rotting corpses in the artwork. What else would you expect from Wretched (vokills & shovel), Lamentor (guitar & vokills), Carcass (bass & vokills) and Plague (smash doom tubs). But once you look beyond the image, you start to realise that these guys are seriously committed to what they do. The main releases have been `Be Afraid' (2007) and `Inner Sanctum' (2009).

Wretched and the guys have also started up Rottweiler Records with the following statement "Corporate music sucks. Always has, always will. Make real music for a real purpose. We are looking for bold, prophetic men and women of God to make very brazen, powerful music". To celebrate this new venture they released a digital download Christmas compilation `Fleas Naughty Dog Vol. 1' and the latest Grave Robber offering `Exhumed' (2010).

Some reviews have referred to this release as a compilation album and I don't feel this is unjustified seeing as many of these tracks have appeared before. BUT this should not distract from the quality of the first six songs. `Army Of The Dead' kicks off in brazen zombie territory with "Rising nightly, oh, so frightening / A ghastly image to behold / You dead are walking and slowly stalking / Towards the city down the road / We see you appear, eyes ablaze / Teeth are clenched and fists are raised / You are the reason we light up the fires / As the highway devours our tyres".

The sheer exuberance in `Altered States' is infectious as they express their take on God transforming your life on a daily basis. The surprise musical twist was `Fill This Place With Blood' with the time changes and shredding that verges on technical thrash territory. My favourites are the high octane cover version of `Lion Of Judah' and their ode to "The Nightmare Before Christmas" in `You're A Mean One, Mr. Grinch'.

Wretched states "We wanted to put a final cap on a couple things before moving on. We rerecorded two songs, one Army Of The Dead we intend to shoot a video for. We always thought we could have done "Grinch" better, so we took the opportunity to do so. We really loved the Our Corpse Destroyed tune and the FBS tune, so we took advantage of the opportunity to do our own spin on those two tracks. Since the title was "Exhumed", we decided to "dig up" our very first demos in order to accomplish showing how far we've come and to give collectors the chance to have absolutely everything we've ever done!"