---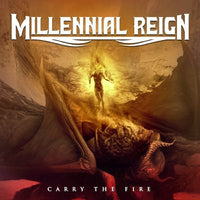 Impressive new album from the US heavy metal band Millennial Reign. Perfect for fans of Iron Maiden, Queensryche, Judas Priest and Crimson Glory. Artwork by Felipe Machado Franco [Blind Guardian, Iced Earth, Theocracy] and design by Jan Yrlund [Delain, Apocalyptica, Korpiklaani]. The album was mixed and mastered at Nomad Studio [King Diamond, Solitude Aeturnus, Absu].

CUSTOMER REVIEW
Everything You Love about metal is here folks! Cool band name, Great album art, and Excellent world class music! The band was founded by Dave Harvey, who is one of the guitar players here, but also plays bass for the band ASKA out of Arlington, Texas. Granted the wheel is not being re-invented here, but every song is good, the production is great. The flavor is power metal that has progressive touches. The whole band is excellent! As for the vocals, well you will notice right away that singer James Guest has a definite Geoff Tate, of Queensryche, sound. Yes, he's that good! Millennial Reign is not a Queensryche cover band by any means, as they definitely have their own sound. Keyboards play a predominate role and are excellent, along with the great guitar work and excellent rhythm section. There are two guitar players and they inject some great twin guitar leads in places. Could you ask (ASKA) for anything more? Well...You could...and well...there is more! As the name implies the music and lyrics speak of the Millennium, and how can you properly speak of the Millennium without raising the name of The King of Glory? Well you can't and these gentleman glorify King Jesus in their powerful music and lyrics! Thank You to Wayne, Daniel, Jason, Dave, and James, for sharing your awesome album and your faithful service to the First and the Last!

"All Hail The Lion of Judah........and Live!"
Tracklist
1 Forever Changed 5:25
2 Way Up High 5:01
3 Millennial Reign 4:20
4 Men Stand Alone 5:28
5 Save Me 5:15
6 This Day 5:04
7 Will You 5:11
8 Innocent Cry 5:23
9 Not On My Own 4:47
10 I'll Try 4:54