---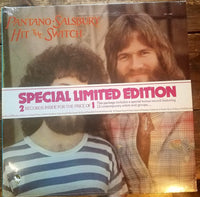 PATANO / SALSBURY - HIT THE SWITCH (*SEALED 2-LP Set, 1978, Myrrh/Solid Rock)  
Factory Sealed but does have a punch hole in bottom left corner of the jacket.
Includes the entire PATANO/SALABURY - HIT THE SWITCH album (these guy were previously known as JC POWER OUTLET a full forced fuzz psych guitar monster band!  This is less psych but full on melodic 70's rock!  
As a promotion, the label added a free bonus LP compilation. 
Tracklist
A1 –Pantano/Salsbury I'm Just A Record 4:18
A2 –Pantano/Salsbury Soul Seeker 6:17
A3 –Pantano/Salsbury Hold On 5:37
A4 –Pantano/Salsbury I Need You 4:06
B1 –Pantano/Salsbury People Tend To Forget 4:50
B2 –Pantano/Salsbury Lover Of My Soul 3:39
B3 –Pantano/Salsbury Magic Of The Moonlight 5:47
B4 –Pantano/Salsbury To Be Near You 4:30
B5 –Pantano/Salsbury I Don't Wanna Wander 5:48
C1 –Wendell Burton Fly Away
C2 –Nedra Ross Gonna Keep My Mind
C3 –Fireworks (9) Open Your Eyes
C4 –Steve Camp Lord Make Me Humble
C5 –Farrell & Farrell* Earthmaker
C6 –Pantano/Salsbury Lover Of My Soul
D1 –DeGarmo & Key Emmanuel
D2 –The Alwyn Wall Band I Don't Care
D3 –Amy Grant On And On
D4 –Andrew Culverwell We Owe It All To You
D5 –Terry Clark (3) Time Enough
D6 –Gospel Seed The Singer's Song

Notes
This is a regular copy of SRA 2008, but with an extra promotional LP added. The extra LP is a compilation album called "Bringin' A New Song", from 1978 and includes an innersleeve with information on the artists.