---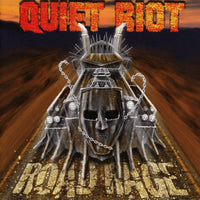 QUIET RIOT - ROAD RAGE (*NEW-CD, 2017, Frontiers) AOR/Hair/Metal
QUIET RIOT is a rock & roll phenomenon. Famously known as the first heavy metal band to top the pop charts, the Los Angeles quartet became a global sensation thanks to their monsterous smash hit album, 1983's "Metal Health". That album topped the Billboard album charts for several months and the follow up album, "Condition Critical" went double platinum. The band has continued to record and tour throughout the decades following.
QUIET RIOT continues their historic journey in 2017 with their new album, "Road Rage". Led by drummer Frankie Banali, who is joined by veteran bassist Chuck Wright (who has been in and out of the band since 1982), guitarist Alex Grossi (who has been in the band since 2004, and new vocalist James Durbin, the band continues to be an unstoppable force in the rock 'n roll world. "Road Rage" was originally scheduled for release in the spring of 2017, but with the injection of new found energy for the band with the addition of American Idol alumni James Durbin in the vocalist slot, the band decided to scrap the original sessions and record a new version of the album with the new and improved line-up. The results are everything Quiet Riot fans could have hoped for!
Frankie Banali's history with QUIET RIOT spans over 34 years and he has the distinction of being the only member of QUIET RIOT to have recorded on every single QUIET RIOT release since the release of their now class album, "Metal Health". After nearly ten years since the loss of his friend and bandmate Kevin DuBrow, and with careful consideration, soul searching, and the blessings and support of Kevin DuBrow's family, Frankie has moved forward with the band to bring the fans "Road Rage"!
Musically, "Road Rage" offers exactly what you would expect from QUIET RIOT. Arena ready hard rock with strong hooks and infectious riffs, along with a maturity in the songwriting that only a band with such a history and pedigree can offer.
QUIET RIOT have come back stronger than ever, in perfect METAL HEALTH with the new album, "Road Rage"!