---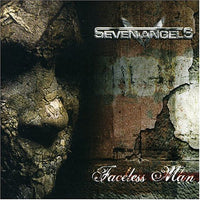 Sale
SEVEN ANGELS - FACELESS MAN (*NEW-CD, 2006, Bombworks) Female fronted Christian Metal!
CUSTOMER REVIEW
I just got this cd about a week ago, and it happens to be the best album I've heard from last year. Yeah last year had it's share of good albums by none really can touch this one, I mean nobody that I know of is familar with this band. What a shame because I believe fans of Sinergy would probably love this band to death. They are really in the same league only that Seven Angels aren't as fast but pretty close.

The cd starts off with "Handful Of Sand" which is pretty basic speed metal for the most part, but the one thing that sticks out is the solo. This band really knows how to write a great solo. Debora has great voice but she doesn't have the range of Kimberly Goss, they are quite different in approach but Debora can sing just fine. "Beyond The Dark Side of The Moon" is a Pink Floyd tribute, well not really but it would be funny. This song has real catchy riffs, well layered guitar tone with pretty unique chorus. I mean the chorus kinda glides along but it sounds very good.

It's one the best songs on the album. This band does have Christian themes but that doesn't bother me at all, but if spiritual messages isn't your thing you need to avoid this. The title track is another highlight, it's about someone who has lost their identity as a human being and asking God who they are. And who God wants them to be, Debora vocals shine here and really carries the song . "Nobody Wants To Live Alone" is ballad like number, the song is about the lonely people and what it feels like being alone. It's a standard message but it really comes through with the lyrics, very well written.

"From Now To Eternity" is amazing closer, it's probably my favorite song on the album. It's contains the best solo on the album, This is also probably Debora's best vocal performance. It's always important to finish an album strong and Seven Angels do save their best for last. Like I mentioned this is overlooked band that many people would probably enjoy them if they would give them a chance. I haven't heard this band's debut but it's defiantley on my want list. So if your looking for a sleeper from last year here it is!

Track Listing: "A Handful Of Sand" (5:32), "Beyond The Dark Side Of The Moon" (5:17), "Nothing Besides Dust" (4:35), "Walking Over All The Seas" (5:48), "Faceless Man" (6:20), "Unseen Truth" (6:43), "Daydream" (5:55), "Nobody Wants To Be Alone" (6:37), "From Now To Eternity" (6:24)