---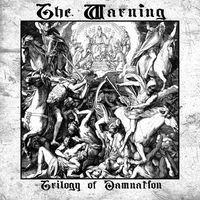 Sale
THE WARNING - TRILOGY OF DAMNATION (THE HISTORY OF) (CD, 2020, Roxx Records)

The Warning is David 'Burrito' Villalpando with Tracy G (of Dio) . 

Trilogy of Damnation - The History of The Warning (A Compilation of all 3 early demos)

Formed in 1985 when Burrito would meet Tracy G after a performance of Tracy's band 'Swift Kick' the two formed a life-long friendship and have worked together on many projects ever since. For this release we are going to focus on 'The Warning' Years.

The Warning would release their first demo in 1986 entitled 'Repent or Die!' with a straight up punk metal influence for fans of bands like D.R.I. , Martyr or The Crucified straight up in your face punk/speed metal crossover.

1988 would see the release of their second demo entitled 'A Virgin In The Midst of Whores' and 1990 would see the band cut their third and final demo 'Cut The Crap' later retitled 'Cut the Garbage' due to much criticism on the original title. This would end the years of The Warning and very soon would see the next incarnation of The Warning and the launch of 8 Ball Cholos.

All of the original artwork from these 3 demo tapes had a very old school homemade DIY look featuring some VERY controversial themes. And while the music from The Warning had a very Christ centered message featuring bold and in your face lyrics and music, it is also definitely not for the faint of heart. As such we will be issuing this title with a true Warning (no pun intended) for young listeners in an effort to warn and not offend the masses.

Get ready for the reissue and compilation of one of the most seminal confrontational underground crossover releases in Christian punk and metal history as we bring you 'Trilogy of Damnation' The History of The Warning.

Trilogy of Damnation features brand new cover art and lay out created by the one and only Scott Waters of No Life Til Metal Graphics as well as an amazing new remaster from Rob Colwell of Bombworks sound.

Packaged in a jewel case edition with an 8 page booklet documenting the original cassette demos and their original artwork in a true underground fashion and printed on an unfinished card stock to give this release a true old school look and appeal. This release will be a true and very limited collectible and limited to only 300 copies.

Tracklist
Repent Or Die (1986)
1-1 The Warning 2:21
1-2 Can Your Heart Still Cry 4:21
1-3 The Truth 3:31
1-4 Jesus Is The Only Way 2:03
1-5 Armageddon (An Instrumental) 1:54
1-6 Abortion Is Murder 2:35
1-7 No Mercy 2:29
1-8 The Rapture 1:48
A Virgin In The Midst Of Whores (1986)
1-9 Burn In Hell 3:34
1-10 Simple Simon 2:11
1-11 Instrumental 0:58
1-12 Let's Go To Church 2:49
1-13 Instrumental 2:10
1-14 A Virgin In The Midst Of Whores 2:04
1-15 What Will You Do 1:46
1-16 Whatever Happened To Love 4:00
1-17 Solid Rock 4:19
1-18 The Rapture 3:44
Cut The Crap (1987)
1-19 Condemned To Hell 4:15
1-20 Human Holocaust
Backing Vocals – Rochelle Ann
3:38
1-21 Blood Bath 3:12
1-22 Don't Touch Me 1:59
1-23 Psalm 51 2:18
1-24 Out Of Control 2:54
1-25 Cut The Crap 2:43

Lead Guitar, Bass, Sounds [Noise Makers] – Tracy G
Lead Vocals, Lyrics By [Most Lyrics] – Burrito
Liner Notes – Burrito
Mastered By – Rob Colwell
Producer – Burrito, Tracy G