---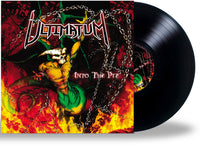 Sale
ULTIMATUM - INTO THE PIT (NEW-VINYL, 180 Gram Black, 2020, Retroactive) THRASH MASTERPIECE!
***We strongly encourage all orders to purchase HASSLE FREE INSURANCE during checkout.
 
WHAT OTHERS ARE SAYING ABOUT INTO THE PIT

If a heavy guitar sound was everything that mattered then "Into the Pit" would be a certain winner added with Scott Waters killer voice is outstanding! His style may not be for everyone, but extreme metal fans are likely going to love this.. Fans of Accept, Exodus and Overkill will love this new album. Add with every song sports a crunchy sound, with Roberts signature guitar-tone as a main focus.
                                                                      Dale Huffman / Metal Icon & Pioneer
Into the Pit is Ultimatum's peak of their creative powers. Crushing riffs that provide a cacophony of thrash metal madness that only Ultimatum can deliver!
                                  Keven Crothers / White Throne Metal Radio & Reviews 
                                            
Check out the bridge going into, and continuing during the chorus for "Blind Faith"! That riff alone is worth the disc!! And don't get me started on the awesome "Heart Of Metal." That song is already a classic! 'Into The Pit' is easily the band's best effort to date, and it will be a hard task to follow up with anything stronger than this.         
                                                                                Encyclopaedia Metallum          
Rooted in traditional metal and thrash but with a fresh appeal. The lead soloing is the type I prefer -- wild, unschooled, awe-inspiring and melodically haunting. As for singer Scott Waters, he's the frosting on the cake....his vocals make Ultimatum soar. 
                                                                                Caveman Metal Reviews    
ABOUT THE BAND
Ultimatum was formed in 1992 in Albuquerque, New Mexico by Robert Gutierrez, John Carroll and Greg Dingess. The band's name is taken from the concept of the ultimatum given by Joshua in Joshua 24:15 which states, "But if serving the Lord seems undesirable to you, then choose for yourselves this day whom you will serve." Robert's former Angelic Force guitar player Steve Trujillo joined soon after. Vocalist Scott Waters joined the band in January 1993 and their first public performance together was at the Sonshine Festival in Albuquerque, NM in 1993.
From 1992-1995 the band performed regularly locally and recorded three demos, Fatal Delay (1993), Symphonic Extremities by Ultimatum (1994), and then Symphonic Extremities (1995). The later two demos were later combined and released on CD by indie label Juke Box Media and released on CD with a new song that was mixed by Whitecross guitarist Rex Carroll.
Drummer Sean Griego joined the band in 1995, whose more aggressive style helped the band morph from traditional heavy metal to a more aggressive speed and thrash metal style. That same year the band opened up for Mortification on their Blood World tour. Mortification bassist Steve Rowe liked the band's performance and purchased all their demo tapes to sell through his new indie distribution company, Rowe Productions. In 1996, the band was signed to a three-album contract with Rowe, releasing Puppet of Destruction in 1998, which was distributed by Diamante Music Group in the US.
Puppet of Destruction received mixed reviews. Within a year the band used the same line-up on their second album for Rowe Productions, Mechanics of Perilous Times. The album was scheduled to be released in early 2000 on Rowe. During this time, the band also released two songs for Dwell records, including a cover of Testament's "Sins of Omission". Due to the success of the Testament cover, Massacre Records approached Ultimatum about being on their label. Rowe Productions allowed the band to release the album on their new label in March 2001.

Into the Pit was recorded with producer Ysidro Garcia at Sight 16 Studios. During the recording, longtime drummer Sean Griego was replaced by former Moshketeers drummer Alan Tuma. Alan recorded drums on four of the album's eleven tracks. Into the Pit was released by Retroactive Records on October 30, 2007 to positive reviews.
200 BLACK VINYL INTO THE PIT 180 Gram Vinyl
First time ever on black vinyl

First time ever on 180 gram vinyl

First time ever with full professionally printed jacket

Legendary artwork by Rex Zachary

Remastered for vinyl by Rob Colwell of Bombworks Sound

Comes with 12x12 full color insert with band pics and lyrics

Includes black poly-lined sleeve for maximum vinyl care and protection

Includes cover song - "Wrathchild" originally by Iron Maiden

Into the Pit

 

is in the top-five thrash albums of all-time for Retroactive Records owner, Matthew Hunt
ABOUT THE ALBUM
Simply put, the masters of thrash metal nailed it in 2007.  Into the Pit qualifies as a juggernaut of North American metal. With Into the Pit, the band unleashed one of thrash metal's most brilliant moments, following in the footsteps of fellow peers Exodus, Vengeance Rising, early Megadeth, Overkill, and Kreator. With its thundering bass, fast drumming and a wealth of Mastodonian rifferry, the boys have clearly learned from their elders, and learned well.  Guitarist, Robert Gutierrez fills every track with fiery, blowtorch riffs and scorching solos.  Vocalist Scott Waters far exceeds his commendable efforts on previous albums, sounding every bit as brilliant as thrash legend Roger Martinez (Vengeance Rising), while never forsaking his classic Ultimatum vocal style.  It's rare to find a band able to progress and mature in their craft so much without changing their sound.  If you like your metal fast, heavy, neck snapping, bone crunching, and old school then Into the Pit is your "stranded on a deserted island" disc.  Careful though.  This stuff is dangerously heavy!  We warned you!  Really, we did. This is where the heart of metal begins and ends!

Tracklist
A1 One For All
A2 Exonerate
A3 Deathwish
A4 Blood Covenant
A5 Heart Of Metal
B1 Wrathchild (Iron Maiden Cover)
B2 Transgressor
B3 Blink
B4 Blind Faith
B5 Into The Pit (Instrumental)
B6 Game Over