---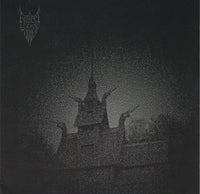 FROST LIKE ASHES - TOPHET (*NEW-CD, 2007, PsychoAcoustix) 
Super rare black metal featuring members of Possession!
 Tracklist
1 A Terrible Visitation 6:46
2 Desecrator 3:44
3 Of Spirit And Power 6:36
4 Nightfall's Cold Kiss 5:30
5 A Cruel Verse 4:54
6 Crucifixion 2:47
7 Execution By Fire 4:41
8 Shattered Gods 6:07
9 Lord Of Darkness 7:33
Bonus Track
10 Let All Mortal Flesh Keep Silent / O Come O Come Emmanuel 14:13
CUSTOMER REVIEW
After being announced something like two years ago this album has finally been released. It was originally set to be released on Sounds of the Dead records [who released their "Pure as the Blood Covered Snow" EP] but the founder of that label vanished from the face of the earth and the future of "Tophet" looked bleak ... it was put on the back burner and a new demo / EP was announced, but then came the great and mighty hero Psychoacoustix Records to rescue "Tophet" ... well unfortunately that didnt work out so well either as the release date was pushed back several times [eventually turning into something like 7 months] and then the head of the label died and the entire label suspended operation. The label did actually get some copies made at the tail end and that is why the Psychoacoustix logo is on the back cover ... but this was NOT released by that label, rather it was released by the band itself.

All of that means nothing to the actual music, but I find it interesting. The music here is much like that on "Pure As ..." only more technical, more advanced, heavier, faster, more intense ... you name it, it's more that way. The production is MUCH better, everything has a fuller, richer sound while still staying away from that 'over produced black metal' sound ... yes, keyboards play a much more prominent roll on this album than they did on the earlier EP, but rather than creating the music [leaving the guitars buzzing around somewhere in the background] they enhance the music, giving everything more atmosphere ... I am not a big fan of keyboard heavy black metal, and I like them on this album, so that says something I think.

All in all I have to say that this cd has gotten a LOT of play time since I received it a couple weeks ago, the mixture of black and death metal with just a touch of thrash here and there is pretty much perfect. I highly recommend this album, especially to those who liked "Pure As The Blood Covered Snow" ... if you liked that one this one will blow you away.