---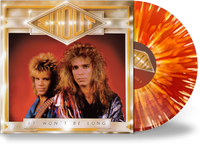 SHOUT - IT WON'T BE LONG + 3 Demo (Orange/Red/Yellow Vinyl, 2020, Girder)
We strongly encourage you to purchase Insurance for your order at checkout. 
Release Date July 16. 2020

Limited to 200 Units

Includes 3 Bonus Tracks on Side B (from their 4-song Demo)

Translucent Red/Orange/Yellow  Splatter Vinyl

2-Sided Printed Inner Sleeves with Lyrics and Photos

Remastered for Vinyl

Includes Ripstream™ 

2020 Girder Records



For fans of AOR Melodic Hard Rock/Metal with Blazing Guitars and Huge Vocals
DESCRIPTION

Shout was a 80's metal band formed by Ken Tamplin and Chuck King. Shout's first album IT WONT BE LONG was released in 1988 with their sophomore follow-up IN YOUR FACE releasing in 1989. Both of these albums were completely re-mastered by Rob Colwell and came out last year on CD. Earlier this year, we released Shout - In Your Face on purple splatter vinyl and now It Won't Be Long has been remastered for vinyl. It's been 30 years in the making and with this amazing orange, red and yellow splatter it's hotter than ever....But the real treat is the addition of 3 of the 4 song demo tracks that we were able to fit on Side 2. Get the vinyl or buy the bundle with the CD and get all the bonus tracks. 
The stories the Ken and Chuck share are nothing short of amazing and explain the miracle that almost never was, stories from the road as well as photos and even some surprises which we are not announcing quite yet, but will soon. In 1987 Chuck was playing with the band Idle Cure but looking for more of a permanent role in music and simply trying to find the right path. Ken Tamplin was a guitarist in the band Joshua and was himself wanting to try something new. Shout was born. Shout signed a deal with Frontline Records in 1987, after submitting a 3 song demo to Frontline and went on to record their first album, "It's Won't Be Long". It was recorded with session musicians including Lanny Cordola (Magdalen), Marty Friedman (Megadeth) and Michael Angelo (Nitro) but soon after recruited the bassist Loren Robinson and drummer Joseph Galletta from his former band Joshua. Tamplin and King made quite the duo and were able to not only put together amazing harmonies, but had the screaming guitar hooks and vocal chops that rival some of the biggest bands of the day. Shout commanded immense and almost instant respect from the growing mainstream metal community the second THIS WON'T BE LONG hit the market. Very few bands even came close to touching this masterpiece.  Shout focused its efforts on music quality, something that the Christian rock fans were really clamoring for. Too many bands of that era focused 90% on ministry and 10% on music. Shout had no interest living ministry behind, but new that the industry needed top quality musicianship. The Encyclopedia of Christian Music cites them as begin even more competent than Stryper.
In Won't Be Long begins with the fast paced NEVER STOP that includes one of the best bridges you'll ever find on an album.   WINNERS AND LOSER, the 2nd song was an anthem that took fans by surprised. It included over the top melodies and fist-pumping onslaught of drums and duo-guitar work. But when the title track IT WON'T BE LONG starts off, you find out that this album is going to have one hit after another, with power metal anthems through-out and one of the best front-to-back run of songs of any album to come out of the 80's. The song SHOUT summed it all up with it lyrics "Shout it out, never let it take you down. Shout it out, livin's what it's all about.
The much anticipated follow-up IN YOUR FACE sold in excess of 40,000 copies within the first month of its release and was exactly what it states, loud and in your face. The title track IN YOUR FACE won a dove award for hard music song in 1990. Every track in the album is strong, leaving nothing held back. Flying guitar work at its best.
*** Demos
Ken Tamplin, Chuck King and I (Greg) worked long and hard to not only locate the original demo but get it transferred off of 1/4 tape and added to the release, but we did it and you are going to FLIP YOUR LID when you hear these songs. 
Shout (Demo)
Timeless Love (Demo)
Without You (Demo)
We will be adding the Demo to Shout - It Won't Be Long.  This almost didn't happen.  Chuck thought he had the demo on a 24 track 2" reel-to-reel however after sending it in to be baked (a precess necessary on old original reel-to-reel tapes before you pull off the audio) we found out that it wasn't the original demo, so we went back to 2 old 1/4 reels to see if either of those were it, but we thought it wasn't, then yesterday the miraculous happened, we got a call from AV Transfer House which told us there were 4 complete songs on one of the reels.  After getting the files delivered, I was able to confirm with Ken Tamplin and Chuck King that in-fact these were it.  But... I will warn you... they sound incredible.  They do not sound like bad quality demos at all, they are in-fact the exact demos that Ken shopped to Atlantic, Enigma and Capitol Records looking for a mainstream deal after landing a deal with Frontline. 
Shout, fittingly the first demo song is a bit stripped down, more raw without all the flying guitars and straight up in your face heavy-rock-hitter. It has a really cool guitar solo version on the tail end right before the bridge. It's really great.
Timeless Love, the second song on the demo it a bit faster a more peppy that the finished album version. Ken's vocals are clear and crisp with little over-production.  Some keyboards were added through out this song giving it more of that mid-80's feel especially when the song breaks 3/4 of the way through. No, there is no break down, don't panic. The song stops for a second and restarts, just like the album version did. This song grooves.
Without You, the last song is heavier and much more edgier with this incredible since of urgency.  I was stunned this first time I listened to it. Ken stated that it really captured the magic and energy that often comes with your first takes of a song.  He said it's like going to Time Square for the first time with all the wow factor.  The album version, although it's great, is more like re-visiting time square. It's still cool but not over the top.
Side A
Never Stop (4:03)

Winners Or Losers (3:47)

It Won't Be Long (4:23)

Find A Way (4:54)

Dancin' Round The World (3:18)

Shout (4:25)
Side B
Showdown (4:07)

Timeless Love (4:38)

Without You (3:49)

Shout Demo (4:17)

Timeless Love Demo (4:12)

Without You Demo (3:44)