---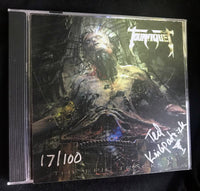 Description
Limited edition of 100 copies. Boone's Overstock has 20 copies - never to get more again. Mirror look to cover, spine, and outer tray card. Hand signed and numbered by Ted Kirkpatrick.
After nearly 30 years of "Tourniquet," it's time. Time for an epic release. An epic release appropriately titled "TOURNIQUET: THE EPIC TRACKS. If you're a true Tourniquet fan, you know what we're talking about. These are the tracks that take you on a journey – that reveal something new every time you listen.  We think you're going to want to add this to your collection.  Amazing cover art by Guang Yang.
TOURNIQUET: THE EPIC TRACKS
Trivializing the Momentous, Complicating the Obvious – 6:35
Besprinkled in Scarlet Horror – 7:39
Fed by Ravens, Eaten by Vultures – 8:08
The Tomb of Gilgamesh – 7:35
The Skeezix Dilemma – 10:00
The Skeezix Dilemma Part II (The Improbable Testimony of the Pipsisewah) – 9:58
Healing Waters of the Tigris – 9:32
Viento Borrascoso – 3:05
The Hand Trembler – 8:35
The Peaceful Beauty of Brutal Justice – 5:06
TOTAL TIME: 76:14
All words and music by Ted Kirkpatrick
2019 Pathogenic Records  All rights Reserved.
All songs remastered by Aaron Pace
Cover art by Guang Yang
Guest vocal redux on "Fed by Ravens, Eaten by Vultures" by Tim Ripper Owens