---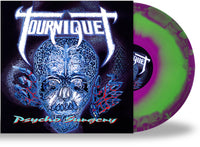 Sale
***We strongly encourage all orders to purchase HASSLE FREE INSURANCE during checkout. 


FINAL COPIES OF THIS VINYL COLOR - ALMOST SOLD OUT
Artist: Tourniquet
Title: Psycho Surgery (Metal Icon Series)
Label:  Retroactive Records/Pathogenic Records

First vinyl reissue featuring the original artwork

Part of the exclusive Retroactive Record's Metal Icon Series

Full color 2-sided printed sleeve with lyrics & many never-before-seen pics

Artwork by NoLifeTil Metal's Scott Waters

2020 write-up by band leader and founder, Ted Kirkpatrick

Fresh remaster for vinyl by Bombworks Sound, Rob Colwell


Produced by Metal Blade Records' Bill Metoyer

Limited to just 500 copies

#2 on

Heaven's Metal Magazine's Top 100 Christian Metal Albums of All Time

#18 on

HM Magazine's Top 100 Christian Rock Albums of All Time

#16 on

CMR Top 100 Christian Metal Albums Of All Time
ABOUT THE ALBUM
With Psycho Surgery, the band went in a more modern, experimental, and technical thrash-metal style, incorporating heavy doses of classical music-influenced guitar riffs, complex tempo changes, and virtuosic guitar solos. One reviewer described the album as "Slayer plays Beethoven...." Vocalist Guy Ritter also abandoned his King Diamond-like high-pitched falsetto in favor of a more melodic baritone register and the band went on to reach a level of popularity worthy of their excessive talent.  The title track is the closest thing the group has to a signature song. It opens with the dissonant sounds of an orchestra tuning, then introduces strangely growled vocals beneath a barrage of other sounds. Radical and abrupt time changes, dissonant harmonies, and a melodic vocal chorus all account for the song's initially inaccessible but ultimately mesmerizing appeal. The allegorical lyrics about all sorts of medical practices seem to be about the process of developing a new heart and a new mind. Maybe it was best said by Heaven's Metal reviewer, Chris Gotto, "A timeless slab of gut-wrenching metal, combining the best of technical riffs, progression, speed metal and love of classical music in a way that only these Christian thrash kings can." The 2020 reissue is remastered for vinyl by Rob Colwell of Bombworks Sound, features never-before-seen band pics, and the most striking vinyl color of any Tourniquet reissue yet, which makes this is THE ultimate collector's dream for deluxe reissues!  
Tourniquet has earned six GMA Dove Award nominations and won recognition globally from magazines such as Modern Drummer, Guitar Player, Metal Hammer, and HM Magazine, where Tourniquet was voted "Favorite Band of the 1990s" and won "Favorite Album of the 1990s." Tourniquet has sold more than 300,000 albums.
Tracklist
1 Psycho Surgery
2 A Dog's Breakfast
3 Viento Borrascoso (Devastating Wind)
4 Vitals Fading
5 Spineless
6 Dysfunctional Domicile
7 Broken Chromosomes
8 Stereotaxic Atrocities
9 Officium Defunctorum