---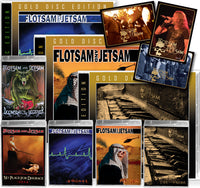 Sale
FLOTZILLA MEGA-BUNDLE 5x TAPES + 3x GOLD DISC CDs - DOOMSDAY/NO PLACE/HIGH/MY GOD/UGLY NOISE
***We strongly encourage you to purchase hassle-free low cost insurance for your order at checkout. It will cover your entire order against damage, not just this item. 

Few artists have had the impact of FLOTSAM & JETSAM.  The band put the Power Metal & Thrash crowd on its feet with the 1986 iconic classic, DOOMSDAY and the band never took the foot off the gas - building a legacy of brilliant FULL-ON HEAVY METAL!  Mentioned in the same breath, with hushed reverence as Slayer, Anthrax, Metallica, and Megadeth - Brutal Planet Records brings you elite remasters with all the stuff collector's crave! 


FLOTSAM & JETSAM - 5 CASSETTE BUNDLE 

FLOTSAM & JETSAM – DOOMSDAY FOR THE DECEIVER + 1 bonus (*CASSETTE ONLY) Limited to 300 World-Wide 

FLOTSAM & JETSAM – NO PLACE FOR DISGRACE 2014 (*CASSETTE ONLY) 1st time ever on cassette - Limited to 300 World-Wide

FLOTSAM & JETSAM – HIGH + 1 bonus (*CASSETTE) Limited to 200 World-Wide

FLOTSAM & JETSAM – MY GOD (*CASSETTE) 1st time ever on cassette - Limited to 200 World-Wide

FLOTSAM & JETSAM – UGLY NOISE (*CASSETTE) 1st time ever on cassette - Limited to 200 World-Wide

GOLD DISC REMASTERS WITH COLLECTOR CARDS (3 OF THESE)

FLOTSAM & JETSAM – HIGH + 1 bonus (Gold Disc)

FLOTSAM & JETSAM – MY GOD (Gold Disc)

FLOTSAM & JETSAM – UGLY NOISE (Gold Disc)


REVIEWS

Flotsam And Jetsam – Ugly Noise (Brutal Planet Records, 2022)
Placing my hand on a stack of old dusty bibles, I declare Ugly Noise to be the most accessible Flotsam And Jetsam album to date. It took a few listens before I surrendered to its magnitude. But now I am a confirmed believer.
One of the appealing signatures of Ugly Noise is how Eric AK's voice took the songs to their fullest capacity on every track. There is very little filler material. This album also brings back the original line-up of Michael Gilbert on guitar (the best they ever had, in my opinion) and Kelly David Smith on drums. You even have Jason Newsted co-write on some of the songs, but that is as far as that goes.
Nuance and complexity are notable on Run & Hide, with keys dominating the melody line, and gritty guitar incrementally finding its place. Brilliant stuff.  AK's vocal array  literally surfs effortlessly. Likewise, Rabbit's Foot is mid-tempo metal with a crazy hook-laden chorus. Play Your Part is a crunchy number, reminiscent of British-styled metal. Rage is intensity and speed the way we like our Flots to be. The guitars, bass and drums are in perfect sync, and the singing spin off into multiple orbits.
Irrespective of how one feels about the band's thrash roots, Motherfuckery takes the intensity of their metal reputation and adds an industrial vibe for a modern spin. Last but not least, Machine Gun addresses random gun violence, the plea of a crazed person who has "gone past the point of no return." The song leans a bit towards Ministry but is very much the musical output of F & J. 
Now Ugly Noise is reissued and available for the first time on cassette. Grab one while they last. You will not regret it.
--Doug Peterson, Down The Line zine
REVIEWS
Flotsam And Jetsam – My God (Remastered Gold Disc & Cassette, Brutal Planet, 2022)
Flots are back in the game that put them on this projectory. Their prior album, Unnatural Selection, was a step towards their thrash metal roots. My God is like the oil change your vehicle has been gasping for to get it screaming down the highway. It is one of the stronger albums they had done in over a decade. There may have been a legitimate fear that the band was going to become another Stone Temple Pilots-type band. But thanks be to all that is sacred, F & J found their way back to writing great songs again.
Flotsam And Jetsam suffered, as I see it, from the 90s invasion of introspective indie rock. They found their foothold in solid fashion with My God. If anything, Flots took what they gleaned from 90s heavier fare music and wrote extremely catchy choruses for this album. 
From the slow fade in of Dig Me Up To Bury Me, the thrash influences tap you on the shoulder to remind you F & J still have it in aces. It's a nod to No Place For Disgrace. Another in yer face rocker, Weather To Do, brings in a more alt-metal variation while keeping the guitars true to the roots.   
Camera Eye comes in fast and heavy and addresses the absurdity of unnecessary surveillance cameras. Again, not thrash, but really good 90s hybrid metal. The next song, Trash, surprised me; it's a song that shows what AK is capable of doing with his voice. The last long track on the album entitled I.A.M.N includes an acoustic rendition of Trash, and is very much worthy of hearing if you have the patience to wade through an ambient Hispanic-flavored instrumental piece that precedes it. The acoustic version of Trash accents AK's versatile voice perfectly. I did not think it belonged on this album, but after repeated listens of the album, it worked its magic. I seriously wish AK would have recorded a whole project of this Southern outlaw balladry.
If you found the album art for My God intriguing, the title track song sheds light on it, connecting religious superiority with politics and war in a thoughtful way:
"My god is the only one
My way is the way
If you don't want to side with me
Your soul will turn to clay
My god is the only one
My way supreme

No one understands your ways
No one will sympathize
We all think you wrap your religion
To keep what's left inside

No one is on your side, no
No one else wants to die

I don't want to say you're out of your head
But I can see right through your mind"
This album has a good amount of variance and deserves multiple listens to be better appreciated. It has been remastered and is available in both gold disc and super cool orange cassette. Make it yours.
--Doug Peterson, Down The Line zine
Flotsam And Jetsam – No Place For Disgrace (Remastered Cassette, Brutal Planet, 2022)
From the beginning time signatures on the first track, you know this band is working their asses off to create an album that will place them high on the metal map. They toured with the likes of King Diamond, Megadeth, Testament, Metal Church and Death Angel, all big hitters. It is astonishing and criminal this band was not hailed as Metal Godz. 
The first three tracks embody the epic guitar shredding one would expect from this sophomoric thrasher. The title track is a lightning speed metal cacophony about a Samaria performing the warrior practice of Harikari. Dreams Of Death keeps the fists pumping while imbuing the old school sound that delineates their career. The last of this sacred thrash trilogy is N.E. Terror, a timeless classic depicting terrorism:
Madman don't waste any time,
Murder inside David's shrine.
Bullets riddle wailing wall,
On bloody broken knees they crawl.

Hooded madmen make your move,
Tell me something, what you're trying to prove?
Why won't you let me see your face?
My fire's bigger, I'll put you in your place.
Next up, Escape From Within starts off as a power ballad and transitions into a full-force cyclone of guitar fury. This melodious track is, in my opinion, one of the highlights of the band's catalogue, and takes a life of its own in live shows. Then we have an Elton John cover, the popular Saturday Night's Alright (For Fighting). It is a fun listen and undoubtedly a crowd pleaser. Does it do much for the song? Not so much.
Hard On You addresses censorship, with a twist of schoolboy humor. It is the thrash equivalent of Twisted Sister`s We`re Not Gonna Take It. Close to the end of the album is P.A.A.B., guitars at their blazing best, addressing governmental and church corruption. Here's a band I can get behind.
This album is all sorts of thrash complexities, but more refined than Doomsday For The Deceiver. The masterfully-placed screams that gave Doomsday its 6 K Kerrang! review are not a commodity for Disgrace. The overall sound does, however, have all the right ingredients. You have Bill Metoyer on production and Michael Wagner on mix down. And that there is a dream team!
This remastered red tape is a true keeper. Metal fans often account for the first two Flotsam And Jetsam being their best output. I can not disagree. Treat yourself to some delicious metal. I won't tell your dentist.
--Doug Peterson, Down The Line zine
REVIEWS
Flotsam And Jetsam – Doomsday For The Deceiver (Remastered Cassette, Brutal Planet, 2022)
This might possibly be one of the best metal albums to be recorded on a minimal budget. Scratch that! It IS one of the best metal albums ever done. The inspiration level for a young band to record something this damn good is of a catastrophic realm. It has all the makings of greatness. The guitars are tastefully crunchy and harmonic. And the clincher on this debut is vocalist Eric A.K.'s  rough yet smooth vocals always on pitch and leaving the well-placed screams where deemed badass.     
Fans of this band know this debut album got the coveted 6 Ks out of a 5 K rating in Kerrang! Magazine. Had Jason Newstad, the bassist and main songwriter for this album, not been drafted by Metallica, one wonders if this band would have made it on the big scale. It is a great disappointment that Flotsam & Jetsam is not a household name like Anthrax or Megadeth after such an optimistic start.
Doomsday For The Deceiver was recorded in three studios in California in two weeks for a whopping $12K. It is the proverbial middle finger to the corporate music industry. Listen to the guitar wizardry on the last track Flotzilla, an instrumental honouring the beast on the album cover, and you will hear the greatness of this album.
Doomsday also manifests some extremely metal–themed lyrical content. Try on She Took An Axe about the historical Lizzie Bordon hacking up her parents or the flawless Der Furher, about the horrors of Auschwitz. 
The title track, beginning with brooding duel guitars, is a prime piece of apocalyptic doom:   
Play heed this take of the prince of darkness,
Whom we're taught to fear from day number one.
The beguiling serpent, king of the underworld,
Betrayer and mocker of heaven's chosen one.
Evil and wicked dreamer, creator of sins,
Ultimate deceiver; longing to take you in.
He promises earthly glory, if you play his game;
"I won't let the firebombs hurt you, just
Number your head and take my name."
There is bonus track on the end of this cassette release entitled I Live You Die, which completes this album significantly. It was written in 1985 by their guitarist Michael Gilbert and made it onto their Roadracer Records cassette in 1989. It now takes its rightful place on this cassette reissue. The song actually became the stylistic force that got the band to write metal songs, record their Metal Shock demo, and got them signed to Metal Blade. In alliance with other affluent metal bands, they tell the dark history of  the gladiator mayhem of Ancient Rome in their own words:
Sword drawn and battle ready, Trajan in command.
Fight 'till death 100 days, corpses of 2000 men.
The masses they decide the fate of a fallen men.
Thumbs down in drunken haste, life's taker and giver I am.
Innocent children dressed like the sacred lamb,
Taken for Nero's-slaughter, as the people look away,
To the pit dogs they are prey, the people look away... they look away...

Persecuted Christians in the blood soaked ring.
Many over many lose their lives, peace to their soul it brings.
The thrills from the kills, those that I have slain,
Are keeping my heart pounding, I live another day.
This green cassette reissue, with art enhancements by Scott Waters and remastered by Rob Collwell, is much more than a cool stocking stuffer (though not many music enthusiasts would complain!). It is one of those historic metal albums that are absolutely essential Head over to Boone's and nurse your neck until this sick little puppy arrives.
--Doug Peterson, Down The Line zine