---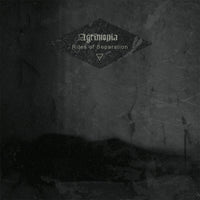 Agrimonia ‎– Rites Of Separation (*NEW-CD, 2013, Sounthern Lord) Progressive Death Metal
Tracklist
1 Talion 10:56
2 Hunted 15:40
3 While Life Lies 10:44
4 The Battle Fought 6:44
5 Awaiting 15:41
CUSTOMER REVIEW
I don't know what the members of Agrimonia had in mind or what they wish to convey, but what they ARE delivering here is a magnificent proggy metal album that sounds mostly like recent Enslaved mixed with Katatonia. If you took, "Axiom..." and "RIITIIR" mixed it with "Discouraged Ones" and "Tonight's Decision" Katatonia, you'd get the idea. The songs are LONG, unfolding compositions, longer than even the lengthy tracks on the latest Enslaved, but never get bogged down in repetition that becomes boring.

Although I'm not familiar with their earlier material or with Christina's vocal stylings on those records, on "Rites of Seperation," the vocals fall firmly in the black metal category. She rips that ass.

It appears the band recorded most of the album themselves, mixing it and polishing it up at Studio Fredman with Fredrik Nordström. It sounds state of the art, but not hy-pro glossy and still maintains a certain dark atmosphere.

If you like progressive heavy metal that draws heavily from many corners of the metal palette, check it.