---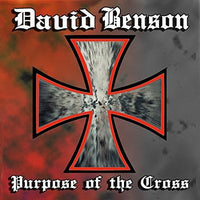 Sale
Newly remastered and expanded version of the LONG out of print David Benson album entitled Purpose of the Cross. Purpose of the Cross was originally released in 1996 independently in a pressing of only 1000 copies, of which these have been completely long gone for years and have been a really tough collectible to come by for the David Benson fan! Now you will have one more chance to pick up a Limited Edition version of this classic David Benson album is we will only be releasing 1000 copies of this which will soon make even this remastered and expanded edition tough to come by! But wait that s not all! This expanded version will be coming with three previously unreleased bonus tracks that have never before seen the light of day! In 2002 Mick Rowe of another famous Christian Metal band called TEMPEST would recruit David Benson to sing on what was to become a brand new Tempest album entitled Crushing the Dark Cathedral. Unfortunately after 3 tracks were written and completely recorded the album would never see the light off day and those three songs would be locked away never to be heard by the general public until now!
ANGELIC WARLORD REVIEW
Christian metal bands intentionally modeling their sound after that of their mainstream counterparts is not a recent phenomenon. The concept dates to the late eighties and Whitecross, who often invited comparison to Ratt as a result of Scott Wenzel's gritty Stephen Pearcy-like vocal abilities. Trytan was next in line, highlighting a Rush influenced sound in which vocalist Larry Dean proved a near dead ringer for Geddy Lee. Finally, X-Sinner brought a strong affinity for AC/DC due to the vocal delivery of Dave Robbins closely resembling that of Brian Johnson.
But does it work? There will always be those that insist it makes better sense to listen to the original: Since the talent and experience are both already in place then any attempt at imitation would be ?second rate?, right? While I can understand the logic behind that line of thinking, you are going to end up missing a lot of very good music in the process- keeping in mind that imitation is the greatest form of flattery.
Whitecross, for instance, featured a world class guitarist in Rex Carroll while no one can doubt that songs such as take It To The Limit, Because Of Jesus and Love On The Line are right up there with the best Ratt had to offer. Trytan offered stunning musicianship on its debut Celestial Messenger in addition to being one of the first Christian metal bands to experiment with a progressive based sound (songs such as Its War?, Mr. Electric and Genesis, likewise, are killer). X-Sinner is the lone hold out and not due to a lack of ability but rather overdone production that drenched its debut Get It in layer after layer of vocal melodies while burying the guitar in the mix.
The trend continued into the nineties with David Benson, whose main calling card was a Christian alternative to Ozzy. True to form, his signature vocal style closely mirrors that of Ozzy Osbourne. The artist has released three albums: Holy Psychotherapy (1994), Purpose Of The Cross (1996) and Premonition Of Doom (1997). I passed on the three back in the day due to not being an Ozzy fan, but there are those who swear by Benson?s abilities and maintain that he nails the Ozzy vocal style to perfection.
The David Benson back catalog, as one might imagine, has been out of print and hard to find for some time (Holy Psychotherapy was recently offered for $150 on eBay). Hence, a re-issue was long overdue, with Intense Millennium stepping to the plate in the spring of 2011 and making Purpose Of The Cross - re-mastered and with new album artwork -available on a limited basis (only 1000 copies printed). Three bonus tracks from the artists 2002 session work with guitarist Mick Rowe (Tempest) are included as well.
What I hear on Purpose Of The Cross is straight on metal with some heavy doom-ish Black Sabbath and early eighties Ozzy influences. Standout tracks include the technical doom of ?Works?, ?Second Coming? and ?Faith?, although I find catchier and more upbeat numbers ?Purpose Of The Cross?, ?Holy Psychotherapy? and ?Revelation Man? equally laudable. Groove driven pieces ?Give In? and ?American Wake Up? are also quite good.
The three bonus tracks, ?Crushing The Dark Cathedral?, ?Dark Star? and ?Dear Aleister?, were supposed to be part of a new Tempest album. That, obviously, fell through, but the Intense Millennium re-issue allows them to see the light of day for the first time. The three, staying true to the albums musical penchant for the swarthy and doom-like, are much better than the bonus track status would indicate.
Musically, there is a lot to like here. However, the key deciding factor - at least as far as this reviewer is concerned ? comes down to not the fact the artist sounds like Ozzy but whether or not the songs are any good. And this is where Purpose Of The Cross succeeds in that at its best its songwriting is top notch and in no way ?second rate? in comparison to the original.
So what is there not to like here? Why does the project rate just 70%?
First, you will find some musical inconsistency in that I hit the skip button a couple times, specifically over ?Shout? and ?We Are One?. The two, in my opinion, are a couple notches below the albums better material and, as a result, I relegate them to filler status (keeping in mind that others might view them different).
Second, I do not own the original so cannot comment on production from that standpoint, but from what I have heard from others is that the re-mastering cleans things up. However, you will still find some slight thinness overall, particularly as it relates to the low end.
Third, is the lack of killer lead guitar playing. Now, whenever Ozzy is mentioned what are the first things that come to mind (other than goofy reality TV programs and having bitten a head off a bat)? All the great guitarists he has worked with over the years: Randy Rhoads, Jake E. Lee, Zakk Wylde and others. Potentially this is where the problem lies in that while guitarists Chris Grey, Eddie West and Bryn Wilson are technically sound and put forth a serviceable performance, none exactly fall within the ?guitar hero? category. At this point the following question begs to be asked: How much better would the project be if lead guitar duties had been handled by someone along the lines of Oz Fox (Stryper), Rick Hunter (Soldier) or Dee Harrington (Saint)?
Fourth, lyrics are printed in too small of a font to be read without a magnifying glass.
Track By Track
?Purpose Of The Cross? grooves its distance, highlighting a catchy hook and up-tempo momentum along with a propensity for the instrumental- the song features the albums best stretch of riveting lead guitar. Chorus hits hard as does the lyrical direction:
There was a man 2000 years ago
Who died upon a tree
Mocking Him today, call Him lunatic prophet
Father of all heresies
Not seeing the truth in why He died
To save the souls of you and me
You mock the purpose of the cross
He shed His blood for you
He died upon a lonely tree
To save you from all sin? eternal doom
?Works? slows things to a technical mid-paced romp. Approaching doom-metal territory, the song proves dark and low-key with its grinding rhythm section and tempo changes over the final half including another extended instrumental excursion.
The doom-ish emphasis continues on ?Second Coming?, an unrelenting slug fest that ranks with the albums heaviest. But it is not all driving in that quite the copious melody can be found as well. The lone complaint is that the song fades out prematurely in coming in at just under three minutes. Lyric snippet:
But as it was in the days of Noah
So shall the coming of the Son of Man be
Watch therefore you know not the hour
Of the Bridegroom is at hand
Be ready in and out of season
You know not the hour or the day
Give your life to Jesus Christ
So you can go when He calls His bride away
?America Wake Up? stands out with its commanding bass line. The song plods forward from the start, driven and substantial during its verses but gaining momentum for a spirited chorus backed by a rollicking drum presence. The band remains in real tight form here.
?Shout? falls somewhat flat, at least in comparison to those preceding it. The song takes a bluesy hard rock heading in picking up the tempo but lacks the catchy hooks for repeated play. A bit too plain and generic is the overall feeling at hand. Lyric snippet:
Jesus my Saviour, the King that rules
His Word I carry like a two edged sword
He helps me with my earthly duels
I walk with Him in His Word everyday
Because He shows through His Word He saves
Shout His name, yeah
Praise His name on high
Shout His name, yeah
So people see His light
A much better effort can be found in ?Give In?. A return to all out heaviness, the song highlights an underpinning technical milieu and understated melody that better represents the artist?s potential. Chorus romps with abandon while the rhythm section settles into a fixed low-end groove.
?Holy Psychotherapy? proves spirited from the get go. The song kicks up a storm of forthright impetus, rushing its distance to a foundational bass line and unremitting hooks in abundance. The infections energy almost brings to mind Stryper. Lyric snippet:
Time after time, day after day
Returning to your emetic state of being
Looking to alcohol to show you the way
Dying in your sin without even seeing
Your spirit is in eminent decay
You need to see a doctor who can make your spirit free
Holy Psychotherapy
Redemption of your soul
Let Jesus make you whole
?Revelation Man? represents this reviewer?s choice track. It starts with the songs variety, ranging from verses that start heavy hitting but decelerate to a quieter touch at the end and a precisely done chorus bordering on commercial in capacity (very catchy and certain to have you returning time and again). A quintessential joining of the melodic and heavy can be found here.
?We Were One?, a praise filled rocker with a mirthful disposition, does not quite cut it. Similar to ?Shout? the song failed to grow on me in that it lacks the notable hook to gain my repeated interest. The technical elements of the albums better material cannot be found here. Lyric snippet:
We must dress up in His armor
Ye soldiers of the light
Bear each others burdens now
And stand against the night
To acknowledge all His names
And to sing unto Him praise
For you know, know we are one
We are one in the power of love?
?Faith? closes things in monster fashion. This one is doom metal all the way, with trudging guitar riffs and hulking low-end playing dominant roles. The swarthy - almost haunting - atmosphere finds Benson in his natural element in no uncertain terms.
As for the bonus tracks, ?Crushing The Dark Cathedral? hits with a ton of bricks while delivering an understated melody in the process. ?Dark Star? and ?Dear Aleister? are ominous plodders, caustic and bitter slabs of grinding metal but delivering enough gripping catchiness to hold up under repeated play.
If you are looking for a Christian alternative to Ozzy then you will find it in David Benson?s Purpose Of The Cross. Again, this is not a substandard impersonation of the original but rather brings some very good songs that stand up quite well on there own. Benson, at the same time, does a fine job nailing the Ozzy style vocal approach. Only some musical inconsistency and lack of great soloing hold things back.
Review by Andrew Rockwell
Track Listing: ?Purpose Of The Cross? (3:19), ?Works? (3:58), ?Second Coming? (2:58), ?America Wake Up? (3:59), ?Shout? (2:52), ?Give In? (3:49), ?Holy Psychotherapy? (3:56), ?Revelation Man? (3:37), ?We Were One? (2:57), ?Faith? (3:49), ?Crushing The Dark Cathedral? (3:07), ?Crushing The Dark Cathedral? (3:07), ?Dark Star? (4:22), ?Dear Aleister? (3:28),
Musicians
David Benson - Lead Vocals
Chris Grey - Guitars
Eddie West - Guitars & Keyboards
Bryn Wilson - Guitars
Mark Selby - Bass
Keith Trevor - Bass
Lee Paddgett ? Drums