---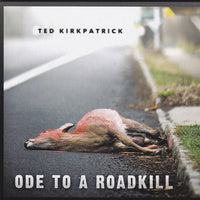 Sale
6 panel digipak, 2010 Pathogenic Records
Barcode: 825576936221
ABOUT THE ALBUM
Ted Kirkpatrick's (drummer for thrash legends, Tourniquet) first solo release is here! Seven songs of hypnotic plodding stoner metal. A 42 minute wall of sound made possible by vintage Orange and Sunn amps. "Vocals" courtesy of authentic haunting animal sounds, reflecting Ted's deep respect for the animal realm... Cool 6 panel digipak CD designed by Jared Meyer.
"The most amazing guitar tone I've ever heard."
"Spacy, atmospheric and unusual.?
"The guitar (wall of) sound is amazing. Absolutely drenched in fuzz. Beautiful.?
"A sort of atmospheric soundtrack of life."
Track Listing
1. Monkeys
2. Owls
3. Loons
4. Lions
5. Whales
6. Wolves
7. Ode to a Roadkill