---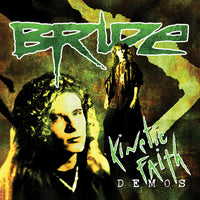 320 BIT RATE MP3's (high quality) - E-mailed to you automatically upon purchase.  If you do not see the e-mail, be sure to check junk and spam folders.  Depending on your mobile phone, downloads may or may not work and we strongly recommend using a computer for downloading your files.  

BRIDE - KINETIC FAITH DEMOS 

Demos, outtakes and lost songs recorded for the Kinetic Faith album but never used.


Remastered by Rob Colwell of Bombworks Sound
ABOUT THE ALBUM
These are songs that were originally recorded for the Kinetic Faith album (1992).  The tracks may or may not have been used, or songs might have different lyrics, choruses, etc.  These are not the finished products that ended up on the classic album, but these demo tracks have all the magic and wonder of the finished product.  Now you get these remastered treasures all on one album packaged in a jewel case and an 8-page booklet with liner notes from Troy Thompson (guitarist)!   
TRACKS
1. Kiss the train
Re-recorded for Kinetic Faith
2. Everybody Knows My Name
Re-recorded for Kinetic Faith
3. Hired Gun
Re-recorded for Kinetic Faith
4. Could You Live In My World
Recorded for consideration on Kinetic Faith
5. Ever Fallen In Love
Recorded for consideration on Kinetic Faith
6. Think About Our Future
Recorded for consideration on Kinetic Faith.
7. Young Love
Re-recorded for Kinetic Faith.
8. Sweet Louise
Re-recorded for Kinetic Faith.
9. Fine Line
Recorded for consideration on Kinetic Faith.
10. Echoes of Mercy
"Echoes" is a ballad we recorded in
consideration for Kinetic Faith but was
ultimately not used
11. I Miss Dancing With You
Recorded for consideration on Kinetic Faith


Kiss the Train/Everybody Know My Name/Hired Gun/Could You Live In My World/Ever Fallen In Love/Think About Our Future/Young Love/Sweet Louise/Fine Line/Echoes of Mercy/I Miss Dancing With You