---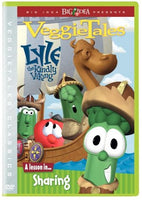 VEGGIE TALES: LYLE THE KINDLY VIKING - A LESSON IN SHARING (*NEW-DVD, 2001)
 CUSTOMER REVIEW
Archibald Asparagus and the French Peas as hosts.... a perfect recepie for disaster and humor. Upset about the lack of culture on the show, Archie turns VT into an episode of Masterpeas Theater. *bad pun, I know...* The first feature is the first all Veggie production of Shakespear's classic "Omelete". A famine isin the land, and the citizens don't have enough to eat. Or at least not enough eggs. Prince Omlete has the last eggs in the kingdom, cooked light and fluffy. Will he learn to share his blessings, as God wants us to? Will the people of Denmark have eggs? This piece, aimed at the older 'children' viewers, paradies classic lines, King James English, and you get to find out how Elizebethian theatre is kind to VT's lack of female characters....
Archie for the second time in VT histories vuts out the Silly Song bit. In it's place is "Classy Songs with Larry", the part of the show where Larrysings a classy song.
The main feature is the first production of Gilbert and Sullivan's lost musical, "Lyle the Kindly Viking". Most of the vikings enjoy raiding the monastery and being 'the terrors of the sea', but the youngest member doesn't 'fit the Viking style'. Lyle is eventually found out to be giving his share of the booty back to the monks, as well as potholders. Can this bring something better than gold, money, and big-screen tv's? Will the other Vikings support him? Is Olaf finding out Lyle's biggest prolem?
Now, to the DVD features. Anyone who has seen the extras and scrrens on "Countdown" and "Angry Eyebrows" would know that this is the first venture to DVD. The chapter selection has no background music. The quality of the extras are good, ut there are only 3. There's an interview of Phil and the director, widescreen version of the Classy Song, and a peek at animation develpomnet.
All in all, a solid Veggie entry, though definatly not the best.