---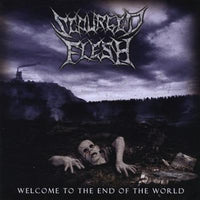 Sale
SCOURGED FLESH - WELCOME TO THE END OF THE WORLD (*NEW-CD, 2009, Soundmass)
 Soundmass is pleased to be releasing "Welcome to the End of the World", the third album for Western Australia death metal band Scourged Flesh, on October 30, 2009.
Scourged Flesh was formed by brothers Todd and David Kilgallon in 2006. The same year saw the release of their debut "Released from Damnation", with the follow-up "Bury the Lies" only a year later.
Formerly a trio, the band has joined in 2008 by outstanding guitarist Daniel Holmes and a new bass player in Simon Hoggett.
Entering the studio at the beginning of 2009, they took a casual approach, writing what came naturally and without any agendas or goals to achieve except for recording a brutal metal album. "Welcome to the End of the World" is the result, a brutal yet melodic death metal album with a focus on groove.
Recommended for fans of Bolt Thrower and Obituary.
TRACK LISTING:
Death And Destruction
War Machine
Chains Of Slavery
Shadow Storm
Extinct
Waves Of Disaster
Napier
Episodes Of Hate
Blood On Thy Hands
Unleashed