---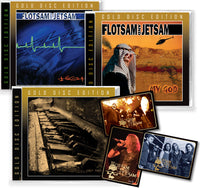 Sale
FLOTZILLA FLOTSAM & JETSAM BUDGET BUNDLE 3x GOLD DISC CD - HIGH/MY GOD/UGLY NOISE
***We strongly encourage you to purchase hassle-free low cost insurance for your order at checkout. It will cover your entire order against damage, not just this item.

Few artists have had the impact of FLOTSAM & JETSAM.  The band put the Power Metal & Thrash crowd on its feet with the 1986 iconic classic,

 

DOOMSDAY and the band never took the foot off the gas - building a legacy of brilliant FULL-ON HEAVY METAL!  Mentioned in the same breath, with hushed reverence as Slayer, Anthrax, Metallica, and Megadeth - Brutal Planet Records brings you elite remasters with all the stuff collector's crave!

GOLD DISC REMASTERS WITH COLLECTOR CARDS (3 OF THESE)
FLOTSAM & JETSAM – HIGH + 1 bonus (Gold Disc)
FLOTSAM & JETSAM – MY GOD (Gold Disc)
FLOTSAM & JETSAM – UGLY NOISE (Gold Disc)
REVIEWS

Flotsam And Jetsam – Ugly Noise (Brutal Planet Records, 2022)
Placing my hand on a stack of old dusty bibles, I declare Ugly Noise to be the most accessible Flotsam And Jetsam album to date. It took a few listens before I surrendered to its magnitude. But now I am a confirmed believer.
One of the appealing signatures of Ugly Noise is how Eric AK's voice took the songs to their fullest capacity on every track. There is very little filler material. This album also brings back the original line-up of Michael Gilbert on guitar (the best they ever had, in my opinion) and Kelly David Smith on drums. You even have Jason Newsted co-write on some of the songs, but that is as far as that goes.
Nuance and complexity are notable on Run & Hide, with keys dominating the melody line, and gritty guitar incrementally finding its place. Brilliant stuff.  AK's vocal array  literally surfs effortlessly. Likewise, Rabbit's Foot is mid-tempo metal with a crazy hook-laden chorus. Play Your Part is a crunchy number, reminiscent of British-styled metal. Rage is intensity and speed the way we like our Flots to be. The guitars, bass and drums are in perfect sync, and the singing spin off into multiple orbits.
Irrespective of how one feels about the band's thrash roots, Motherfuckery takes the intensity of their metal reputation and adds an industrial vibe for a modern spin. Last but not least, Machine Gun addresses random gun violence, the plea of a crazed person who has "gone past the point of no return." The song leans a bit towards Ministry but is very much the musical output of F & J. 
Now Ugly Noise is reissued and available for the first time on cassette. Grab one while they last. You will not regret it.
--Doug Peterson, Down The Line zine
REVIEWS
Flotsam And Jetsam – My God (Remastered Gold Disc & Cassette, Brutal Planet, 2022)
Flots are back in the game that put them on this projectory. Their prior album, Unnatural Selection, was a step towards their thrash metal roots. My God is like the oil change your vehicle has been gasping for to get it screaming down the highway. It is one of the stronger albums they had done in over a decade. There may have been a legitimate fear that the band was going to become another Stone Temple Pilots-type band. But thanks be to all that is sacred, F & J found their way back to writing great songs again.
Flotsam And Jetsam suffered, as I see it, from the 90s invasion of introspective indie rock. They found their foothold in solid fashion with My God. If anything, Flots took what they gleaned from 90s heavier fare music and wrote extremely catchy choruses for this album. 
From the slow fade in of Dig Me Up To Bury Me, the thrash influences tap you on the shoulder to remind you F & J still have it in aces. It's a nod to No Place For Disgrace. Another in yer face rocker, Weather To Do, brings in a more alt-metal variation while keeping the guitars true to the roots.   
Camera Eye comes in fast and heavy and addresses the absurdity of unnecessary surveillance cameras. Again, not thrash, but really good 90s hybrid metal. The next song, Trash, surprised me; it's a song that shows what AK is capable of doing with his voice. The last long track on the album entitled I.A.M.N includes an acoustic rendition of Trash, and is very much worthy of hearing if you have the patience to wade through an ambient Hispanic-flavored instrumental piece that precedes it. The acoustic version of Trash accents AK's versatile voice perfectly. I did not think it belonged on this album, but after repeated listens of the album, it worked its magic. I seriously wish AK would have recorded a whole project of this Southern outlaw balladry.
If you found the album art for My God intriguing, the title track song sheds light on it, connecting religious superiority with politics and war in a thoughtful way:
"My god is the only one
My way is the way
If you don't want to side with me
Your soul will turn to clay
My god is the only one
My way supreme

No one understands your ways
No one will sympathize
We all think you wrap your religion
To keep what's left inside

No one is on your side, no
No one else wants to die

I don't want to say you're out of your head
But I can see right through your mind"
This album has a good amount of variance and deserves multiple listens to be better appreciated. It has been remastered and is available in both gold disc and super cool orange cassette. Make it yours.
--Doug Peterson, Down The Line zine