---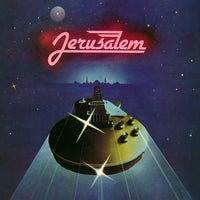 Sale
JERUSALEM - VOLUME ONE (Legends Remastered) (*NEW-CD, 2018, Retroactive Records)
RRCD1466 JERUSALEM - VOLUME ONE (Legends Remastered) 40th Anniversary Edition 

Artist: Jerusalem
Title:  Volume One (Legends Remastered) 40th Anniversary Edition
Record Label: Retroactive Records
Product ID:  RRCD1466
Packaging:  CD, Jewel case 12-page booklet with lyrics, band pics
Barcode:  656165850921
Release Date: June 7th, 2018
ABOUT THE ALBUM
It all began in 1975 with an old bus bought from a surplus stock at the Swedish Telecom. It was a miracle they even got out of Gothenburg. The water leaked out of the bus very quickly. Sometimes on tours they had to stop in the middle of nowhere and the guys had to wade in swamps to get water for the bus. But that didn't diminish their enthusiasm. Every second weekend they took all the equipment and went on tour. The mission was to tell young people about God in clubs, discos, schools.  They did all this in the face of heavy resistance. Being the first Christian hard rock band in all of Europe was difficult. Hard rock was connected to drugs, aggression and Satanism. Furthermore, the music was ear-splitting! Jerusalem endured a lot of criticism. They weren't welcome at all at some churches. Smoke-bombs, long hair and a stage stockpiled with professional musical gear was more than some people could accept, even if Jerusalem radically proclaimed Jesus. But Jerusalem were full on Jesus freaks, and they could not be stopped!  
1978 saw the release of Jerusalem's debut record, Volume One and in just a few months the record sold 30,000 copies! Jerusalem reached far outside the church walls, drawing both believers and non-believers.  It was originally released with Ulf Christiansson singing in his native Scandinavian tongue. Fortunately, some Americans attended Greenbelt Festival in the U.K. and brought Jerusalem records back to the USA and a copy ended up in the hands of Resurrection Band's future-icon Glenn Kaiser.  Glenn got that record into the hands of Lamb & Lion Records legend, Pat Boone who ended up introducing English-singing Jerusalem albums to the masses in the USA!
The lyrical depth, the recording quality and the searing riffs stand out on Volume One. These are elite songs dripping in passion and vitality that hasn't lost any of its charm since 1978!  "High Tide," "Mr. Ego," "Neutral," etc. alone explain how this is the pivotal album that pierced through the hearts of fans across the globe which gave the band a foundation that birthed many years of international touring.  Jerusalem was the real deal, and anyone who listened to this album knew it.
Unfortunately, the Jerusalem debut release never got a proper CD reissue in English until now.  With several compilations having songs from the album, this Retroactive Records 40th Anniversary Edition is the first time the album has been reissued on CD in English featuring all the original songs.  This Rob Colwell (Bombworks Sound) Legends Remastered version adds so much warmth, depth, and sonic clarity to perfection. Retroactive Records has packaged this gem in a jewel case with a 12-page insert featuring band pics and lyrics. Great pains were made to make sure this classic was given the full reissue treatment, knowing Jerusalem fans have waited 40 years for a proper CD reissue!  Well, here you have it! For fans of Deep Purple, Bad Company, BTO, Resurrection Band, Daniel Band, Barnabas, and Nazareth! In 2015, Classic Christian Rock Zine voted this album the #9 best Christian rock debut album of all time!   
Tracklist
1 Noah
2 Jesus Is The Most Fantastic
3 Maybe
4 Daddy Who Has Made
5 Mr. Ego
6 Come To Me
7 If You Only Care To Listen
8 Neutral
9 Days Passing By
10 What If Jesus Is Right
11 High Tide