---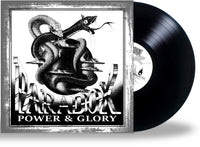 PARADOX - POWER & GLORY (NEW-BLACK VINYL, 2020, Retroactive)
For fans of Stryper/Sacred Warrior/Recon
***We strongly encourage all orders to purchase HASSLE FREE INSURANCE during checkout.  



PARADOX - RULER (Legends Remastered)
(*NEW-BLACK VINYL, 2020, Retroactive)
For fans of Recon & Sacred Warrior!
First time ever on CD / Vinyl
180 Gram black vinyl with deep grooves to capture the full sound
Offered record label deals by Intense Records and Star Song Records
One of the most highly regarded bands in the Christian metal scene to never be signed to a label (Soldier, Taker, Apostle are others).
If there were a Hall of Fame for Christian Metal demos, Paradox's Ruler (1987) and Power & Glory

 

(1989) would be first ballot HOF'ers
Includes bonus tracks from the Big Rage Compilation (Pure Metal), & Brave New Music Compilation (Star Song), a Demo, and an accompaniment track (4)
Vinyl comes with two-sided 12x12 insert
Write-up by Doug Van Pelt of Heaven's Metal Magazine
Write up by lead singer, Manny Castillo
Part of the Legends Remastered Series on Retroactive Records
Limited edition 500 CD / 200 Vinyl
Digitally remastered by Rob Colwell of Bombworks Sound
Layout by Scott Waters (NoLifeTilMetal Graphics)
80's glam / hair look and song hooks, but powerful heavy metal for fans of Recon, Sacred Warrior, and Iron Maiden
Tracks
Side A
Power & Glory
I Just Want to Love You
Meet the King
Sweet Reunion
God's Amazing Grace
Side B
Give a Listen (Big Rage 1 Compilation Mix)
Called & Chosen (demo)
We Are the Temple (Brave New Music Compilation)
Sweet Reunion (accompaniment track)
ABOUT THE ALBUM
Ruler had just been released at a time when the band was garnering interest from record labels for the first time. R.E.X., Frontline, Intense, Star Song and Word Records contracts were all sitting on the kitchen table waiting to be reviewed. The production of new music was under way. "Meet The King" and "Just Want To Love You" were real barn burners with a furious message of fidelity to God and in our relationships to one another. The message of Power and Glory hit the band hard and fast. It was winter 1987, and Christmas was just around the corner. On the morning of December 8th, we were struck with a message from which would forever test and change the destiny of what would become a paradox of its own. John Vidaurri had tragically died in an accident. At We just didn't expect it, but we knew that John had a vision to bring us together and he would have wanted us to finish it. Power and Glory took on a new meaning for the band in 1988 when the decision was given to stay together and to move forward with the mark of a higher calling, to press on.  The band started to receive condolence letters from the record companies basically stating concern and reneging on the contract offers previously sent. In short, they were worried how the loss was going to affect the writing ability of the band, so they pulled back the offers they had sent. "When in our weakness we were made strong through Him, that who ever believeth in me even though he should die will have eternal life." The hope of all glory is to one day be able to see each other once again! A "Sweet Reunion!" "For we wrestle not against flesh and blood but against principalities, against powers, against the rulers of the darkness of this world, against spiritual wickedness in high places." To see the power and the glory of God, we offer the commitment and the passion and now the patience it took to finally dedicate this release to John Vidaurri. John had a vision that allowed Paradox to believe in this ministry, that through our the music, the band could worship God with power and glory and let the world know of God's goodness!  Here you go with this album officially released on CD and Vinyl for the very first time in history!  The album features the original five tracks, but 4 exclusive bonus tracks, all digitally remastered by Rob Colwell of Bombworks Sound, and layouts by Scott Waters of NoLifeTilMetal. Vinyl comes with a black polylined sleeve, hype sticker, 180 gram vinyl, write-ups from vocalist Manny Castillo and Doug Van Pelt.  The CD comes with a 12 page booklet packed full of awesomeness! Over 30 years later, this classic album finally gets the deluxe treatment it deserves, and collector's crave.  Limited edition pressing - be sure to get your copies while you can!  For fans of Sacred Warrior, Recon, and Stryper!