---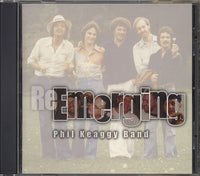 Phil Keaggy Band ‎– ReEmerging (*NEW-CD, 2000, Canis Major) elite rock CD Rare
Tracklist
1 Theme
Music By – Phil Madeira
1:27
2 Where Is My Maker
Words By, Music By – Phil Keaggy
3:52
3 Another Try
Words By, Music By – Phil Keaggy
4:56
4 Ryan's Song
Cello – Karl Fruh
Words By, Music By – Phil Keaggy
3:07
5 Struck By The Love
Words By, Music By – Phil Madeira
5:46
6 Turned On The Light
Words By, Music By – Phil Keaggy
4:58
7 Sorry
Words By, Music By – Phil Keaggy
4:10
8 Take A Look Around
Saxophone – Ray Papai
Words By, Music By – Phil Keaggy
5:18
9 My Auburn Lady
Words By, Music By – Phil Keaggy
4:24
10 Mighty Lord
Words By, Music By – Phil Madeira
4:41
11 You're My Hero
Words By, Music By – Phil Keaggy, Terry Andersen
4:02
12 Amelia Earhart's Last Flight
Words By, Music By – David L. McEnery*
3:17
CUSTOMER REVIEW
The title of this review pretty much says it all. This was a phenomenal album that was released during a rough time at Love Inn. The discipleship/shepherding movement* was just beginning to fray and unravel and, as noted in the excellent liner notes included in this superbly done reissue, this album got caught in a lot of the ensuing conflict, political posturing of the time.

Despite all that, it stands the test of time and contains some of the finest work that Phil has ever done. The new material on this reissue is also worthy of note. I especially enjoyed "Mighty Lord" and agree with the liner notes that perhaps, and in hindsight, it was a mistake to leave it off the original. This was Phil Keaggy's first band after his short stint with Love Song (boy would I love to hear some of those board tapes - they must be something else!) and the synergy (yes, Glass Harp fans that's a nod to you all) of this razor tight, and gifted band is apparent on every track.

NOTE: "Gentle Eyes" (a wonderful song written for his wife) Has Never Been Released On CD, Including The Re-Emerging CD Reissue, Which Is Currently Out Of Print.