---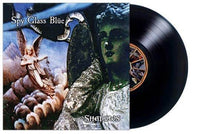 Sale
***We strongly encourage all orders to purchase HASSLE FREE INSURANCE during checkout.

The faithful remnant of "the Few" have implored for the reissue of all things Allan Aguirre. The gods have listened. The creative genius behind this musical catalogue is of a high magnitude. There is much to celebrate in this Vinyl (and CDs!), remastered to perfection!  
With 2 full albums by Spy Glass Blüe and 4 full albums by Scaterd Few these long-awaited first-time on vinyl releases are unquestionably an essential listening. All the music has been remastered by the competent Rob Colwell (Bombworks Sound), the impeccable box and album layout art by Scott Waters (No Life Til Metal), and is a collaborative between Retroactive Records and Allan Aguirre's own Faceless Gen Recording Company. Only 200 Vinyl will be made, so make sure to get yours. Two words: Get Stoked!!  ....Doug Peterson / Music Critic
Black vinyl with a 12x12 insert
First time on vinyl!
Limited to just 200 units
Remastered for vinyl by Rob Colwell at Bombworks Sound
Originally released on 1996 on Sancrosanct Productions Group/Pinnacle Records and then reissued on Organic Records (1997)
WHAT OTHERS ARE SAYING ABOUT SHADOWS....
This is a criminaly overlooked band. The post-punk/Goth project of Alan (scattered few) Aguirre. While Scattered Few always had a Bowie/Peter Murphy influence, on this album Alan brings his Goth influences to the forefront. A perfect description of this album is David Bowie meets Bauhaus. A perfect combination of influences. So if you wear black, lots of eyeliner and flour makeup, chances are you'll love this cd. So get it before it's gone because it is OOP!  Music Critic MM 

Great disc. Very unique sound. As others have noted there's a Bowie-esque industrial tinged goth rock here but one that is not afraid to flow with liquid bass lines and occasional synth pop flurries. It all lands in an off-kilter left-of-center field with Allan Aguirre's (ex- Scatered Few) meandering, warbly voice leading the way. When he croons his uneven up and down one word chorus on "Lodging" it embodies everything I love about this release. This is a rock star with theatrical vocals...
                      Thoweron Music Critic
1. Spy Glass Blüe – Shadows (1996)
RRV1643 Spy Glass Blüe – Shadows Vinyl 732131700794

ABOUT THE ALBUM
Allan Aguirre is best known as the front man for the punk band Scaterd Few. He formed Spy Glass Blüe as a side project, to serve as his "artistic outlet" and to function as more of a ministry band. The group became his main focus for a brief interim (1995–1998) during which Scaterd Few was defunct. Shadows shows strong influence of general market artIists like David Bowie, Bauhaus, The Cure, and Peter Murphy and so was immediately identified as a rare example of Christian goth music. Aguirre objects to the categorization but admits that "a lot of goths were into Scaterd Few" and that he "welcomes that audience." The opening track, "Thin and Leaner," displays some of the punk style of Aguirre's main band, but the rest of the album consists of dark, haunting, moody tunes that might recall The Cure. Aguirre sometimes mimics David Bowie's vocals (e.g., on "In Sultry Places," "On and On"). Thematically, the album seems to deal with the confusion of life without Christ. All 12-songs have been remastered for vinyl by Rob Colwell of Bombworks Sound, and fans get a black vinyl with a 12x12 insert, and limited to just 200 copies.  Grab this artistic treasure while you can!  This is it's first time on vinyl!  


...MORE ABOUT THE ALBUM
It is no secret that by the time Sin Disease found its way into music stores, Aguirre had been playing the LA club scene with his dark wave band Cygnet. The average music enthusiasts tends to regard Scaterd Few as a big fish in a small pond of relevant faith-based bands. However, when Scaterd Few went on hiatus the first time, Aguirre gravitated towards dark wave, playing alongside bands like Jane's Addiction, who were then vying for recognition in a sea of hair metal bands. Years later, Cygnet ended up evolving into the moniker Spy Glass Blue.

I first became aware of Spy Glass Blue when Flying Tart (also known as Flying Fart, but I digress…) released Spy Glass Blue's debut EP on a 7" and a cassette. The songs on this 7" and tape later made it onto Shadows, their first full length. When I hear this album, I think steam punk, though it is also referred to as dark wave. I also hear Eastern European post-punk in these fine crafted songs.

One of the elements I adore about Spy Glass Blue is the more stripped-down approach to song structure. Layers are ever-present and the vocals are front and center.
Thin and Leaner launches it with reckless abandon, reminding the listener that post-punk is no respite from the punk family. Lodging embodies the wonder of being in love, perhaps the most intimate lyrics to date. In Sultry Places is my favorite from Shadows, though I confess I am hard pressed to decipher its meaning: "With a Crimson Face disgraced, By secret names and childhood games, Tales of Croatian sacrifices, Opal Eyes don't fantasize aloud but, alone in sultry places…" Hey, does anyone have an Allan key to help unlock this lyrical mystery

Can You Feel? is a song of lament as well as an apprise: "His eyes kaleidoscope in pain to see, the mass creation, Continue in their degradable shame, But still the broken heart keeps bleeding for the population, Shouldn't we be doing the same in His name?"
On Me Mine there is passionate interplay between the guitar and bass with goth influences bleeding out. Next up, Stygian is colorful post-punk that it may transport your mind to another ethereal location. While it appears to be sing-song-y and jovial, the subject matter is anything but … "For the lips of an adulteress drip like honey, Her feet go down to the depths of She'ol, Like a Syriac or oxen to the slaughter, Little Stygian follows to her chamber of death." If you happen to wonder where Spy Glass Blue stands on the fate of defiled spiritual leaders, this might give you pause. Iron Grey is a masterpiece, Bowie-esque and bewildering. In all sincerity, if Aguirre had a solid shot at general market music, this would have been the song. Should Have is the antithesis of a sappy love song, written from the persuasion of one who realizes beauty is not what makes a relationship. Ending with Tell, this is a tribal-esque praise piece, quoting from a portion of a Hebrew Psalm.

Shadows not only sketches personal shadows but also those of religious leaders on public display. It is often dark, mostly exquisite, and essentially truth-telling.
                           (Doug Peterson / Music Critic)

Tracklist
1 Thin And Leaner 
2 Lodging 
3 In Sultry Places 
4 Can You Feel 
5 Me Mine 
6 On And On 
7 Stygian 
8 Iron Grey 
9 Ignorant Side 
10 Come Patmos 
11 Should Have 
12 Tell 

Thin And Leaner/Lodging/In Sultry Places/Can You Feel/Me Mine/On And On/Stygian/Iron Grey/Ignorant Side/Come Patmos/Should Have/Tell