---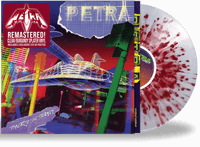 Sale
PETRA - BACK TO THE STREET (*New-Vinyl) CLEAR/BURGUNDY SPLATTER VINYL w/POSTER, 2022 GIRDER RECORDS, LIMITED RUN
*** We strongly encourage you to purchase hassle-free low cost insurance for your order at checkout. It will cover your entire order against damage, not just this item. Insurance does not cover delays by the carrier.

PETRA - BACK TO THE STREET (*New-Vinyl) CLEAR/BURGUNDY SPLATTER VINYL w/POSTER, 2022 GIRDER RECORDS, LIMITED RUN
Release Date June 24, 2022
CLEAR BURGUNDY SPLATTER VINYL

2022 Girder Records GR1119LP
Includes 12x18" Poster
Remastered from Original Sources by Rob Colwell
Originally Release in 1986
Legends of Rock™ Edition
Christian Rock's #1 band, PETRA, is louder, crisper with more definition, punch and attitude and finally get the credit they deserve.  Never Say Die (1981), Not Of This World (1983), Back To The Street (1986) and On Fire! (1988) have been remastered for vinyl from original sources and are back on vinyl for the first time decades. All 4 of these classic Christian rock releases are printed on heavy weight vinyl in a special effect/color combination, includes a 12"x18" poster and includes 2 sided printed inner sleeve with lyrics and photos.
2021 marks the 40th anniversary of Never Say Die and 2022 will mark Petra's 50th Anniversary. RELEASE DATE:  Spring/Summer 2022
Description
Very few bands have had more than one lead singer in which the later singers saw as much, if not more, success than the previous. Those exceptions would be Sammy Hagar of Van Halen, Brian Johnson of AC/DC, Dio with Black Sabbath and John Schlitt with Petra.  Back To the Street, John's first album with the band and their 8th overall album, gave PETRA new life and even more success than they could have dreamed of garnering a Grammy™ Nomination for best Gospel Group (1987) and a long line of Dove Awards and Grammy™ Awards to come.  When you start this strong you are either doomed for failure or as in John's situation, you have something to prove.  The band was stronger and tighter thanks to the work of producers John and Dino Elefante, who demanded excellence if they were going to stamp their name on it. Petra fans were delighted. Melodic Rock with guitar hooks, catchy lyrics, soaring vocals, AOR ear-candy like no other. The new vocalist fit like a hand in a glove.  It was strong musically, and powerful lyrically. Everything about this album just worked. 
Everything that can be shakin' will be shakin' within, better have your house in order when the shakin' begins. (From the song "SHAKIN THE HOUSE.")
Remastered from original sources with an 8-page booklet with lyrics in a jewel case. It also comes with an LTD collector's card inside.
Bob Hartman

 

– Guitar
Mark Kelly

 

– Bass
Louie Weaver

 

– Drums
John Lawry

 

– Keyboards
John Schlitt

 

– Lead vocals
TRACKS
Back To The Street (4:12)
You Are I Am (3:08)
Shakin' The House (4:28)
King's Ransom (4:18)
Whole World (4:50) 
Another Crossroad (3:50)
Run For Cover (3:15)
Fool's Gold (4:48)
Altar Ego (4:43)
Thankful Heart (3:17