---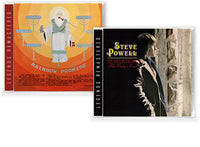 Sale

***We strongly encourage you to purchase hassle-free low cost insurance for your order at checkout. It will cover your entire order against damage, not just this item. Insurance does not cover lost packages. 

***Be sure to order the epic STEVE POWELL - REVELATION CD + VINYL - as Steve is the lead singer of RAINBOW PROMISE!  
2 CD Bundle - STEVE POWELL is the lead singer of Rainbow Promise 
STEVE POWELL - REVELATION (THE PARTY'S OVER) (*NEW-CD, 1974/2021, Retroactive) Monster Rural Rock/Psych Monster!


RAINBOW PROMISE - RAINBOW PROMISE (*NEW-CD, 1972/2021, Retroactive) Xian Acid, Psych Fuzz Monster!
Elite Jesus Music
First time ever on CD - Remastered for 140 gram heavy-weight vinyl
Originally release 1972
Original issue vinyl copies sell for many hundreds of dollars and are near impossible to find!
Featured in all the elite psychedelic collector's value - The Acid Archives, The Archivist, Fuzz Acid and Flowers
CD comes with jewel case, 8 pane insert with band pics and lyrics
ABOUT THE ALBUM
One of THE top Christian psychedelic rarities is this custom guitar-based rock monster from the 5-man band, Rainbow Promise with strong west coast vibes that recall the best of Wilson McKinley!  The stage is set right from the start with the righteous rocker, "Get Ready," featuring mouth-dropped-to-the-floor sharp dual guitar leads (reminds us of "Paint It Black" by The Rolling Stones!). "Someone You Need" follows with some of the most insane scorching echoed wah-wah guitar on record anywhere and.  "Do You Hear" starts off fast, then adjust to a moodier feel, on par with much of what is on the Christian psych legendary album, "Spirit of Elijah" by Wilson McKinley.  The same can be said for both "Prophecy" and "Rebirth," with the latter treating listeners to inspired echoed guitar leads. Track eight is an electrified cover of one of the most iconic Jesus Music tracks of the 70's - "Little Country Church," made popular by Love Song.  It's hard to top all this greatness!  The band even breaks open a fresh can of pure charm with the delightful country rocker, "Romans 8-28" and the laid back campy "The Joy of the Lord."  The album features dynamic drumming and not a single keyboard note to be found anywhere!  The homemade cover art is psychedelic perfection, with a depiction of the glorified Son of Man in the midst of seven candlesticks as presented in Revelation 1:12-18.  Guitarist and primary song writer, Steve Powell (R.I.P. 2021) also has a 1974 solo album, Revelation (The Party's Over) also available on CD and Vinyl. CDs come with a foil-stamped trading card, packaged in an eight panel insert.  Vinyl comes with a 12" insert, and both CD and Vinyl have been remastered to perfection. For fans of Exkursions, Wilson McKinley, The Doors, Rolling Stones, Cream, Iron Butterfly, early Resurrection Band, All Saved freak Band, Agape, and JC Power Outlet!  If you like massive, haunting rock music, and a scorching, guitar onslaught, then this is for you!   

Tracklist
1 Get Ready 3:03
2 Someone You Need 3:54
3 Do You Hear 3:38
4 Romans 8-28 3:45
5 The Joy Of The Lord 1:34
6 I've Got The Rebirth 5:19
7 Prophecy 5:20
8 Little Country Church 2:44 (Love Song cover tune)
9 Please Don't Refuse Him 3:20

STEVE POWELL - REVELATION (THE PARTY'S OVER) (*NEW-CD, 1974/2021, Retroactive) Monster Rural Rock/Psych Monster!

First time ever on CD & Heavy weight Vinyl Remasters
Originally released 1974
Lead singer of the monstrous slab of fuzz, Rainbow Promise
Original issue Vinyl has sold for up to $355 in collector's markets
Elite rural rock and Christian psychedelic readily available for the first time in 50 years!
CD comes with foil-stamped trading card!
ABOUT THE ALBUM
This album will appeal to fans of the psychedelic monstrosity called RAINBOW PROMISE, as Steve Powell is the lead sing of that giant slab of FUZZ guitar.  As with solo albums from bands like The Exkursions and Harvest Flight, the solo album is full of rock, but not quite as radical.  Yes, there are a handful of softer moments, but the album still features plenty of electric basement vibes - fully in tact!  "Freedom" grinds out in a heavy, grungy Larry Norman way, while "Excites Me" lays it down with riffs that can only be described as raw and bluesy - in all the right ways!  "I Wanna Live" sure sounds like one of those psychy rural ballads off of Rainbow Promise.  Powell goes on to nail several more rural rock tracks, all while playing piano, drums, while providing quality work on rhythm guitar and lead guitar.  The man has no limits!  All ten tracks are digitally remastered.  The CD comes with a four panel insert, while the Vinyl comes in at 140 grams, a quality heavy weight listening experience! For fans of Love Song, Phil Keaggy, early Petra, Larry Norman, Iron Butterfly, The Talbot Brothers, and Rainbow Promise!

Tracklist
1 Gonna Take A Trip 2:55
2 It Doesn't Have To Be 2:47
3 Revelation 3:30
4 Freedom 3:39
5 I Wanna Live 2:50
6 Excites Me 0:57
7 Excites Me 1:04
8 I Love Jesus 3:25
9 The King's Lady 3:50
10 Come Back Home 3:43
11 Psalm 61 4:04