---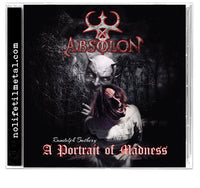 ABSOLON - A PORTRAIT OF MADNESS (*NEW-CD, 2023, NoLifeTilMetal) Malachai Vocalist / Epic Powerful Heavy Metal!
This is the brand new full length album from Florida based symphonic power metal band, ABSOLON.
ABOUT THE ALBUM
Created by Ken Pike (of Malachia fame) in 2012, ABSOLON is an exciting and dynamic American heavy metal band.  Combining one part traditional NWOBHM, one part European metal, and one part modern symphonic power metal. ABSOLON has managed to create a sound and style that is all their own, a new sound, yet a familiar one. If you're into bands like Queensryche, Judas Priest, Iron Maiden and Kamelot, you are going to love ABSOLON.
This is the bands sophomore release entitled "A Portrait of Madness" a concept album that will truly appeal to those that love albums like "Operation Mindcrime." Similarly, the bands debut album released independently, was a concept album entitled "Darkness Rising – The Tale of Derek Blackheart" which was released to much praise in the symphonic metal genre.
TRACK LISTING
1. INTO THE DARKNESS
2. THIS IS MY DREAM
3. BREATHE AGAIN
4. 1916
5. THE DEMON WALTZ
6. LET ME BE
7. DRIVE YOU OUT
8. THE MEN IN BLACK ROBES
9. BLINDED BY LIES
10. IT IS DONE
11. INTO MY HELL YOU'RE CAST
12. FOREVER ONE
13. OUT OF THE DARKNESS
14. RANDOLPH'S STORY