---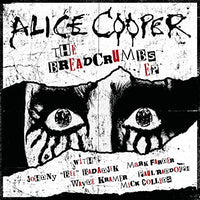 Tracklist

Detroit City 2020
Go Man Go
East Side Story
Your Mama Won't Like Me
Devil With A Blue Dress On / Chains Of Love
Devil With A Blue Dress On
Chains Of Love
Sister Anne
CUSTOMER REVIEW
On this limited edition EP, hard rock legend Alice Cooper performs mainly cover songs (a few originals are in there) as his tribute to Detroit. For those of you who don't know, Alice was born in Detroit before his family eventually relocated to Arizona. Cooper is in fine form here and used for his musicians players from Detroit for this special EP.

If you enjoy hearing garage rock with a real Detroit sound I think this EP will please you. Cooper continues to put out great hard rock to this very day and is still the best live act in the business. This is a fun album with some great songs and shouldn't be viewed as a conventional Alice album. That was not the intention. There were only 20,000 Vinyl copies released and you can find the songs online. Add this album to your Vinyl Collection right away.

You really like the original Alice song,"Go Man Go."