---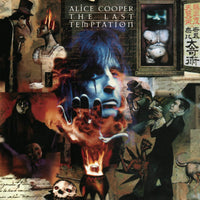 ALICE COOPER - THE LAST TEMPTATION (*NEW-CD. 1994, Epic) Brilliant, brilliant hard rock!
This is some of the greatest music on the planet!!!!
Tracklist
Sideshow 6:39
Nothing's Free 5:01
Lost In America 3:53
Bad Place Alone 5:04
You're My Temptation 5:09
Stolen Prayer 5:37
Unholy War 4:10
Lullaby 4:28
It's Me 4:39
Cleansed By Fire 6:13

CUSTOMER REVIEW
This is another one of Alice Cooper's masterpieces. He's had a lot of them too; Killer, Billion Dollar Babies, Welcome To My Nightmare, From The Inside, Dada, etc. The Last Temptation is a continuation of Welcome To My Nightmare, because it tells another story about Steven. The music's a little bit heavier but unfortunatly less theatrical compared to WTMN, and the story is almost as good. I haven't heard Alice Cooper Goes To Hell yet, so I can't compare it to that one. It's another one that has a story about Steven. Anyway, this might be the best rock CD from the 90's. Nirvana's Nevermind and David Bowie's Outside are really good, but they're grunge and industrial, so they don't count. The Last Temptation is one of those albums that you can play twice in a row without skipping any of the songs, and never get tired of it. My most favorite song on here is the ballad "It's Me." I like it almost as much as "How You Gonna See Me Now." The other nine tracks are excellent too!