---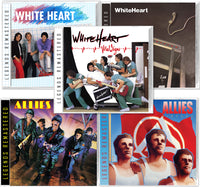 Sale
***We strongly encourage you to purchase hassle-free low cost insurance for your order at checkout. It will cover your entire order against damage, not just this item. Insurance does not cover lost packages. 

ALLIES & WHITE HEART 5-CD BUNDLE + 5 TRADING CARDS (2021 Legends Remastered) 
RRCD1557 Whiteheart - Vital Signs CD UPC 637405146554 
RRCD1558 Whiteheart - debut CD UPC 637405139914  
RRCD1559 Whiteheart - Hotline CD UPC 637405148831 

RRCD1593 ALLIES - ALLIES UPC 637405140293
RRCD1594 ALLIES - VIRTUES UPC 637405140477

ABOUT THE WHITE HEART ALBUMS
When White Heart hit the scene in 1982, they took their cues from Petra, DeGarmo & Key, Toto, Reo Speedwagon, Chicago, Foreigner, Night Ranger, and Bon Jovi (on Hotline) for three albums. The 1982 self-titled debut + Vital Signs + Hotline all feature elite AOR / commercial rock music with hooks still etched firmly into our brains many decades later! Those three albums feature countless hit singles, dominated radio airplay, set record sales in the CCM market, and made White Heart a household name in Christian homes across the world. Each CD reissue is remastered by Bombworks Sound and features exclusive band photos culled from the Home Sweet Home vaults specifically for these reissues. Using the original source tapes we took great pains to make sure these audio remasters are absolutely perfect with bonus tracks and 12-16 page lyric inserts.  Along with the foil-stamped White Heart trading cards that come with each release, these are truly the ultimate AOR reissues in both sight and sound! 

ALLIES HISTORY
Remembered primarily as the first successful pairing of Bob Carlisle and Randy Thomas, the Allies produced classic rock-pop albums that were ahead of their time for the Christian market in the late '80s. Before the Allies, Thomas was already well known in Christian circles for his role in the highly influential group, Sweet Comfort Band (which also included Bryan Duncan). The demise of that seminal act led
him to contact old friends for a reunion of ex's from two previous outings: he had played with Carlisle and Jim Erikson in the 1970's band Psalm 150 (which also included future members of Andraé Crouch's Disciples, Damn Yankees, and Night Ranger) and with Sam Scott and Matt Chapman in a group called Sonrise. Thus in 1984 the Allies were born in San Bernardino, California. In later years, Chapman would turn up playing bass in Clash of Symbols, and Carlisle would earn fame for his ballad "Butterfly Kisses," written with Thomas. 
ABOUT THE ALLIES ALBUMS
With the 1985 debut album, Allies took the CCM world by storm with their brand of AOR commercial rock featuring mega-hooks with a distinct bite!  Fans of Van Halen, Idle Cure, Journey, later period Sweet Comfort Band, and Petra would lose their minds as the band toured and dominated both radio and CCM sales charts.  The 1986 sophomore release, Virtues would build on the band's strengths - melody, harmony, and massive hooks!  Both the self-titled debut and Virtues are considered to be Christian rock royalty and this is the first time collector's will be able to enjoy these classics digitally remastered with 12 page inserts, an Allies foil-stamped trading card (in each release), and a must-read 2021 interview with guitarist, Randy Thomas that starts in the debut album, and concludes in the Virtues CD (get them both to read the entire interview and get both trading cards!).