---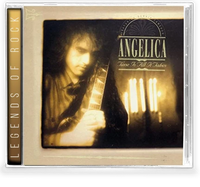 ANGELICA - TIMES IS ALL IT TAKES (*NEW-CD, 2020, Girder) 2020 AOR Remaster!
Produced by Dennis Cameron




Jewel Case CD with 6 Panel fold out and Lyrics




Released: August 14, 2020




2020 Girder Records

UPC: 

765531345715
The fourth album from Angelica might be Dennis Cameron's shinning moment.  Loaded with guitar shredding and melody it's almost to Angelic what Against the Law was to Stryper, musically their best album.  Simply put it's a  AOR masterpiece. Songs like the opening track GOTTA GET READY and OPEN YOUR MIND really showcase Dennis's amazing guitar chops. This man (Dennis) fly's all over the fretboard. The acoustic intro of DON'T STOP really proves however that Dennis is much more than a shredder.  This album has so much rhythm and feel to it. Yeah it's melodic rock but it's pure music perfection from the melodic overtones of TIME IS ALL IT TAKES and I CAN HARDLY WAIT TO SEE, to the rockin' tunes of RUNNING WILD. It's Angelica in perfect form.  Originally released in 1992 on Intense Records. Angelica's Time Is All It Takes is the 4th album by the band.  We originally re-mastered and re-issued the first 3 album and after much request, we are happy that this album has been given the Rob Colwell remastering treatment and wow is there a major improvement. 
Dennis Cameron guitars, lead vocals
Drew Baca lead, backing vocals
Additional background vocals by Daniel Yates
Mixed and Recorded at Mixing Lab A and Mixing Lab B
Mastered by Wally Traugott
Engineered by Thom Roy 
Gotta Get Ready
Running Wild

Second Chances

I Can Hardly Wait to See

Open Your Mind

Don't Stop"

Time Is All It Takes

Carry Me