---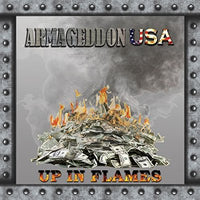 Sale
Jewel case release

US Private Press 2015 - Fantastic Comeback Album of a US White Metal Institution ! Killer US Metal

Members: Mike Vance, Rob Lee, Dan Wilkinson, Joe Hasslevander (of the mainstream band, RAVEN!), Robert Bussey
Armageddon, in 1989 the band released the classic album "The Money Mask", has now released their second album called "Up in flames".
This is an album of very high quality, themes very powerful, this album has the same quality as its predecessor "The Money mask", featuring the same classic sound of the era, if you listen, you can not believe that this album has been launched in 2015, a highly recommended album for true lovers of the classic metal sound
For Fans of Metal Church, Saint, Judas Priest, Halloween, Siren, Vicious Rumors, Exciter
Tracklist
01 All Over The World 03:10
02 Spinner 04:30
03 Hypnotized 05:20
04 Wanted Man 05:18
05 In Your Face 05:08
06 Satisfaction 04:26
07 Allie 03:53
08 Crazy 03:06
09 Time Divider 04:36
10 Revolution (Peace Of Mind) 06:03
11 Up In Flames 03:59
We have only fond memories of The Money Mask, the 1989 Talkingtown Records debut full-length of Washington, DC based Armageddon. The album started the group down the path of traditional metal in walking a fine line between Judas Priest, Armored Saint, Metal Church and Saint but also touched upon the occasional thrash and speed metal moment.  Signature tracks "The Money Mask", "Mercenaries Of Injustice and "More Than Conquerors" epitomize the bellicose and hardy Armageddon sound in mauling with the best of them, while "(Liberation From) The Blazing Wasteland" ups the aggression and "We're Outa Here" the all out speed either way.  A more melodic side to the group's songwriting abilities can be found in the brilliant "Nightlight", delivering five minutes of non-stop and catchy riff driven groove, and "The Ship Of Changes", a scintillating metal ballad highlighted by tasteful acoustic guitar.  Ultimately, I embrace how Armageddon brought some much needed muscle and backbone to an eighties-metal scene that at times reveled in a bit too much fluff, hairspray and commercial hooks to a fault.
Armageddon actually came together under the name Second Chance in the early eighties after vocalist Mike Vance and guitarist Robby Lee met through an ad placed in a local newspaper.  Later rounding out its line up with drummer Mark Wiley, the group began work on the material that would encompass the Second Chance demo tapes in addition to placing the track "(Liberation From) The Blazing Wasteland" on the East Coast Metal compilation from 1988.  The change to the Armageddon moniker did not take place until prior to the deal with Talkingtown in 1989. 
After the passing of twenty-five long years, I am pleased to announce Armageddon has received a much-deserved second chance (no pun intended) in that Vance and Lee reformed the group in 2008, and subsequent to seven years of hard work, released its sophomore album Up In Flames in the summer of 2015.  Now known as Armageddon USA due to the high volume of bands going under the Armageddon heading, the group recruited current Raven members John Gallagher (contributing bass on three tracks) and Joe Hasselvander (handling all drum duties in addition to filling in on bass & guitar) to help complete the project.  Many will recall Hasselvander from contributing his timekeeping abilities to several tracks on The Money Mask. Rounding out the Armageddon USA line up is Robert Bussey (Taker, The Calm & Attic Symphony) on bass and guitars.
Opening track "All Over The World" picks up where The Money Mask leaves off, a fleet footed slab of classic metal unequivocal with its unyielding aggression but also precise in terms of the front to back refined guitar harmonies.  "Spinner" follows and maintains the up-tempos leanings, even faster with frenetic verses approaching the tumultuous, albeit tempering (even if somewhat) for its melodically tinged chorus.  Standing out on both are the trademark lower register vocals of Vance, who continues to operate in guttural to soulful to gritty vocal territory but can still cut loose with a high-pitched scream or falsetto at a moments notice.  Those into other NWOBHM vocalists such as Rob Halford (Judas Priest), Al Atkins (original Judas Priest front man) and Josh Kramer (Saint) will feel right at home with his course style.
Also of heightened capacity is "Satisfaction" in aligning a delectable but mercurial machine like precision with tsunami-guitar walls and extended stretch of elevated dual lead guitar.  This one proves no frills but effective.  Albums title track is another barnburner, starting to a drum solo and scream followed by non-stop angst as a more bristling side to the band comes to the forefront: chorus proves curt as it gets, while rhythm section pummels remorselessly.  What the two share is a sound akin to old school Saint (think Warriors Of The Son meets Time's End).
Armageddon USA also delivers its share of mid-paced backbone.  "Wanted Man" highlights a ton of reverberant groove in this capacity, no frills with its heavy hitting demeanor in which vast bass lines and melodic guitar harmonies contest.  "In Your Face" proves aptly entitled as a catchy and riff driven slugger giving rise to a freight train like chorus and cool drum solo at the end, while "Time Divider" plays up a turbulent but melodic essence with its power low-end groove and muscular overtures throughout.  Inherit to the trio is the fantastic guitar lead guitar work of Lee, Bussey and Hasselvander, who combine for some skillful dual lead harmonies and soloing of an adroit nature (I am uncertain as to who handled which solo on which song but it is very well done).
The group is also not afraid to throw the listener the occasional curveball.  Ballad "Allie" is first to deserve mention, which unlike "Ship Of Changes" from The Money Mask is more a classic ballad with its acoustic basis and lighter, ethereal overtones.  While far from bad and not filler, it is also my least favorite of the albums tracks in that musically I feel the group could have done a bit more with it.  For instance, why not instead add a rhythm guitar track to turn it into a metal ballad or imbue things with an emotional guitar solo.
Also a bit unexpected is "Hypnotized", a dark and ominous plodder with a down-tuned aspect that almost lends a portent doom metal quality.  Of note is how Vance alters his vocal delivery to remind of Alice Cooper, with "Hypnotized" as a result lending itself perfectly to turn of the century Alice albums Brutal Planet (2000) and Dragontown (2001).  Said creativity allows the song to represent this reviewer's choice track off Up in Flames.
Vance event takes his vocals in an Ozzy influenced direction on "Crazy".  Albums shortest at just over three minutes, the song basks in its flattering discord, at times slow and dire and others yielding a more energetic effect but always determined and stalwart.  Vance touches upon Ozzy vocally at times on "Revolution (Peace Of Mind)", albums lengthiest at six minutes in highlighting a pronounced melody in allowing galloping riffs and a harrowing basis to play prevalent roles.  The two make me feel I am listening to a David Benson solo album (by no means a bad thing).
Constructive commentary is few and far between.  Production is slightly raw but in no way flawed or holds the album back.  Rather any lack of polish allows the groups inherit energy to come across that much more defined, noting that Up In Flames was recorded on a shoestring budget with most of its songs containing first takes when the group was tracking.  Cover art comes across a bit low budget but does a good job clarifying the message Armageddon USA is attempting to get across.
Speaking of which, lyrics touch upon current world and US conditions and issues.  "Spinner" talks about media propaganda and misinformation –
I don't like no sneak attack
Gotta be ready, ready for that
If its' white just paint it black
They got an app for that
Fox News you're giving me the blues
CNN you did it again
MSNBC omg!
- and "Hypnotized" people mesmerized by their television sets :
Watch the shiny object flicker in your eye
It's going deeper, deeper in your mind
Your opinions are about to be made
Based on how your information is portrayed
Subliminal messages you've got all that you need
Obey the master of illusion you see
You you're on the side of all who play the game
Albums title track deals with polices in that USA that are bad ideas:
Shut down the party we're under attack
Weapons are pointed right at your back
Political wizards you hijacked my rights
Red, White and Blue watch it ignite
Warning, warning this place is getting hot
Deny it all you want but the truth cannot be bought
The cost of war is the subject to "Revolution" (Peace Of Mind)" –
White cross stands on a hill
Where they laid my friend
Four tours in the desert sand
Until he met his end
Why do we have to go on
There's only one solution
Maybe I should take over and drive
And start a revolution
- and finding the truth "In Your Face":
Well you've denied the truth before
Spawning lies give birth to more
Well here's a choice, it's up to you
Yeah, you decide just what to do
Believe the lie, you'll surely die
Believe the truth and receive new life
Receive new light, receive new light
Find the truth and receive new life
It is refreshing to hear Armageddon USA return after such a lengthy hiatus and sounding as inspired and energetic as ever.  Up In Flames reflects the groups experience in proving the more consistent work in comparison to The Money Mask, which (in my opinion) included a couple skip buttons.  Said continuity manifests itself in how Armageddon USA features four songwriters in that Lee, Hasselvander, Vance and Bussey all receive songwriting credits.  My opinion being that the more songwriters an album features the better opportunity for quality material and such is the case with Up In Flames.  Fans of traditional metal and the NWOBHM aesthetic will be well served by checking Up In Flames out.   
Review by Andrew Rockwell
Track Listing: "All Over The World" (3:10), "Spinner" (4:27), "Hypnotized" (5:20), "Wanted Man" (5:10), "In Your Face" (5:00), "Satisfaction" (4:26), "Allie" (3:54), "Crazy" (3:04), "Time Divider' (4:37), "Revolution (Peace Of Mind)" (6:04), "Up In Flames" (3:59)
Musicians
Mike Vance - Lead Vocals
Robby Lee - Guitars & Bass
Robert Bussey - Guitars & Bass
John Gallagher - Bass
Joe Hasselvander - Drums, Bass & Guitars