---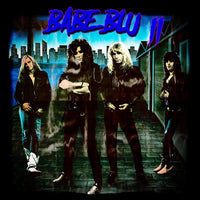 Sale
 ***We strongly encourage you to purchase hassle-free low cost insurance for your order at checkout. It will cover your entire order against damage, not just this item. 
Eighties era American rockers Babe Blu have a new album titled Babe Blu II, which has been released via Vanity Music Group and which apparently includes the five songs on the group's 1987 debut EP Can't Stop Rock N' Roll.

"Babe Blu was one of the better Atlanta-based rock bands from the mid-80s. They released a 5-track mini-LP titled "Can't Stop Rock-n-Roll" that contained some great Melodic Rock. Notable is the fact that the band had two lead vocalists that both could sing well. The band had member changes along the way, and ultimately found its demise through the unfortunate timing of the grunge avalanche that reared its head in the late '80s and early '90s. If we succumb to the natural need to compare obscurity with things known, we'll take that best shot. While Babe Blu certainly holds it own with regard to melody and playability from the era, most tracks can certainly be compared to more mainstream bands from the same slice of time.
"Can't Stop Rock-n-Roll" – the title track, is a nice AOR/Melodic Rocker that sounds like a cross between Autograph and Starship. "Do What I Want" is an melodic hard rocker and what makes this entire collection so interesting all of the songs are pure AOR and relevant to fans of pure classic hair rock. "Do You Remember", is a classy AOR ballad with a pure '80s keyboard sounds, somewhere along the lines of the Foreigner, Loverboy and Giuffria ballads. Also, the chorus makes this song a winner for the fans of classic AOR ballads. "Just One Night" is a pretty typical '80s uptempo rocker like 8084, White Sister and Giuffria. And, "Good For You" is simply impressive. This song is a classic AOR ballad like Starship at their best. Great keyboard arrangement and thoughtful placement of nearly every part of this song. No reason this one should not have propelled Babe Blu from obscurity to over-the-top status. Timing is everything, as they say."
01 - Can't Stop Rock N' Roll
02 - Do What I Want
03 - Good For You
04 - Just One Night
05 - Do You Remember
06 - Can't Stop Rock N' Roll (Version II)
07 - State of Passion
08 - Burnin' With the Fire
09 - I'm On My Way
10 - Back on the Streets
11 - Take Me to the River