---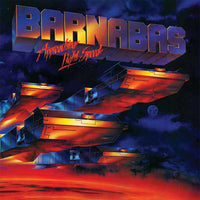 BARNABAS - APPROACHING LIGHT SPEED (*NEW-CD, 2017, Retroactive Records)
Artist: Barnabas
Album: Approaching Light Speed (Legends Remastered)
Label: Retroactive Records
Product ID: RRCD1443
Barcode: 656165850600
Format: Compact Disc / 38 Minutes
Layout: Full color 12 page booklet insert with lyrics and band pics
Release Date: November 11th, 2017
Part of the Legends Remastered series on Retroactive Records!
ABOUT THE ALBUM:
With the 1983 album Approaching Light Speed, Barnabas released what many still consider to be one of the very best albums in Christian progressive metal. With this release the band pulled everything together and upped the Wow-Factor to a new level. With the raging guitars of "No Freedom" launching the album to new heights, the album continued to progress and show artistic growth and maturity in astounding ways. Combine that with cutting-edge lyrics, spacey keyboards interlaced throughout, and textured guitars building to new sonic extremes, and metalheads everywhere were hooked. The recording and the mix of the album also went to new levels, allowing the depth of the music and songs to shine. Each instrument can be heard perfectly, and Nancy Jo's vocals penetrate the soul. Did we mention the guitars? They are LOUD! They are METAL. And, from this point on, they would define the Barnabas sound.
Any band is lucky to make one album that is truly elite. When I say "elite," I don't just mean great songs and great execution. What I mean by "elite" is that this album is something that strikes a chord deep within the souls of many people... that steals the hearts of fans in sweeping fashion... that adds up to much, much more than the sum of it's parts... something that is truly transcendent. With Approaching Light Speed, Barnabas nailed it. They nailed it with an album that is just as musically, lyrically, and spiritually transcendent in 2017 as it was in 1983. And, let's get one thing clear: there was NOTHING like this album in Christian music in 1983! The good news at the time was that fans were ready. They were ready for something quality, something authentic, something real. And, with this release Barnabas did what they did on every single album they wore their hearts of love for God and people on their sleeves. Their new record label, Light Records, encouraged the band to tone it down a little bit. Thank God Barnabas chose to be more radical than ever. Their courage and conviction would go on to help them achieve critical acclaim and widespread popularity amongst a growing population of people who needed exactly what they were offering. Approaching Light Speed has been digitally remastered by Bombworks Sound (Rob Colwell) and we are confident the album has never sounded better than now!
In honor of 40 amazing years of Barnabas, this Retroactive Records reissue is packaged in a jewel case featuring a 12 page full color booklet with lyrics and band pictures, and writes-ups from both the label owner, Matthew Hunt, and Doug Peterson of Down The Line Zine. For fans of Rush, Dio, Resurrection Band, Vixen, Daniel Band, and Kansas (if they were metal!).
Tracklist
1 No Freedom 4:30
2 Stormclouds 4:39
3 If Love Brings Love 4:03
4 Waiting For The Aliens 6:10
5 Warrior 3:55
6 Never Felt Better 3:20
7 Subterfuge 5:47
8 Crucifixion 5:59