---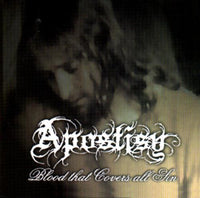 Sale
BLOOD THAT COVERS ALL SIN (*CD-EP, 2005, Black Winter Productions) elite Christian Black Metal

"Blood drips down His face... knowing what must be done. Nothing shall ever replace... the sacrifice of the son. Can this be truth, are you my Lord? Can you forgive me and save this wretched soul?"

Hailing from California, Apostisy's EP "Blood that Covers all Sin" sends chills of pure, Finnish influenced melodic death metal down your spine. Opening with the immensely epic and captivating instrumental "So it Begins", Apostisy sets the stage for the listener to be indoctrinated into a wondrous piece of blackened metal. This EP, however, hauntingly lingered in the shadows, foretelling of greater things to come from this powerfully immerging metal act. And those prophetic feelings were not forsaken as the follow up album to this EP, "Famine of a Thousand Frozen Years" rocketed onto the scene in 2007. Apostisy devoted fans will want to grab this album as it is the perfect compliment to the unveiling of what was and what is yet to come...

"Must I travel any further, for the path that lays before me appears desolate and grim... Satan has set his eyes upon me, silently he waits for the time in which my faith is weak."

Lyrics from "Blood that Covers all Sin" and "First Frost of a Winters Day"
Tracklist
1 So It Begins 5:23
2 Lest We Forget 5:58
3 Blood That Covers All Sin 7:16
4 Amongst The Shadows Of Remebrance 7:58
5 First Frost Of A Winters Day 6:33