---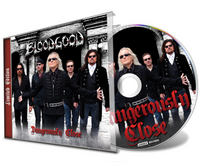 Sale
Bloodgood - Dangerously Close + 1 Bonus Track (Limited Edition CD) 2021 Remastered
***RELEASE DATE APRIL 24th, 2021
Hassle Free, Low Cost Insurance: We strongly encourage you to purchase our 100% coverage, hassle free insurance. It will cover your entire order, not just this item. Available here or once you add this item to your cart.
Includes

 

THE WORD

 

Bonus Track
CD Jewel Case with 6 Panel Foldout
Includes

 

Limited Edition Trading Card

 

#12 -

 

with Red Foil

Legends of Rock™
The Beatles once sang, "It was twenty years ago today / Sgt. Pepper taught the band to play." In 1993, the trailblazing metal missionaries, Bloodgood, who taught and inspired many in the Christian metal realm how to play passionate music of both substance and power, took a hiatus to raise their families. But twenty years later in 2013, the band emerged unexpectedly to release their sixth studio album, Dangerously Close. You might think after so long a break, the band was ready to smooth out the metal onslaught and lean toward the mellow side of things. But those notions were soon detonated with the first opening sledgehammer riffs of "Lamb of God." Throughout twelve tracks, the passion and potent musicianship of this iconic band bleed through with a band that rocks hard with pulsating fury and intelligently written lyrics of faith that convict and inspire. Vocalist Les Carlsen has lost none of his vocal pyrotechnics, as the band, which includes Stryper's Oz Fox, pounds out anthems for a modern world. Les is joined by the twin guitar assault of Fox and Paul Jackson, together with the tight rhythm section of Michael Bloodgood and Kevin Whisler proving this band can still set the world on fire.
Girder Records is proud to offer this modern classic in a Limited Edition CD, with new artwork that matches the vinyl version, and featuring the bonus track, "The Word," a Beatles cover, previously only available on the version released on the Swedish label Doolittle Group. Don't hesitate to snatch up this gem before you find yourself missing out on one of the band's finest musical achievements.


Track Listings:
Lamb of God
Run Away
Child on Earth
I Will
Bread Alone
Pray
I Can Hold On
Run the Race
Father Father
Man in the Middle
Crush Me
In the Trenches
The Word (bonus track)