---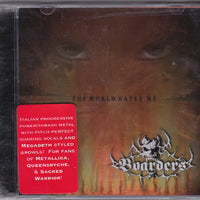 Sale
Formerly a Megadeth cover band. Amazing hybrid of soaring, pitch-perfect vocals
combined with Megadeth growls from this Italy based metal band.
Boarders are an Italian band that started off as a Megadeth tribute act, before coming to faith and writing their own material. "The World Hates Me" was originally released in 2007, before being re-released by Retroactive Records in 2009. The band members are Egidio Casati (vocals & rhythm guitars), Luigi "Gigi" Civardi (lead guitar), Oskar Sasso (bass) and Roberto Agnelli (drums).
There are several different styles on this album and I was somewhat surprised by the first track "True Rebellion" which has a choppy riff similar to AC/DC. Then as you might expect from their Megadeth influences, the music switches to eighties thrash and metal. Some of the lyrics are a bit clunky, but when you are not writing in your native language this will always be a challenge. So it took me some time before I realised that "Schmertzgarten" is about the Jewish holocaust. The rock ballad "Never Alone" has additional female vocals from Mariangela Scafati. Then they do a cover version of "In My Darkest Hour" by Megadeth. The album closes with doomy Black Sabbath-esque riffing.
As Egi says "We recorded "The World Hates Me" just for personal gratification and without any clue that one day it would be released by not one, but two labels (first edition with Quam Libet Records and the re-issue with Retroactive). Personally I was trying to catch in music what was happening in my new life, after having turn to Christian Faith. Jump For Joy was the first lyric I wrote, and it describes the incredible changes that meeting the Truth in person can bring to our lives. In particular, the verses: "Rebellion grew for all these years/ feedin' my own imprisonment/ Today I fall down in tears/ 'cause this slavery came to its end". Apart from this song, and three others that we previously recorded in a demo in 2003 (these are W:P:D, For What It's Worth and Deliver You Back To Hell), most of the lyrics were written directly in the recording studio, right during the mix, prior to record vocals".
There are eighties metal, speed metal, melodic rock ballads and thrash tracks all on here. The mixture of styles and influences means that this album doesn't flow as you would expect it to. The clean sound production and excellent lyric booklet all show that attention has been taken to this release. But I have to say that overall I enjoyed it.