---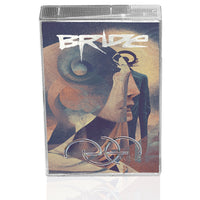 Sale
We strongly encourage you to purchase 

hassle-free low cost insurance

 for your order at checkout. It will cover your entire order against damage, not just this item. 

Bride - Are You Awake #6 Limited Edition Cassette 
(1) Hi-Fi Audio Cassette (Blue) (only 100 made) 
Be sure to check out Sales Listing Option 10 - for the one-of-a-kind Test Cassette sent from manufacturing to test and approve the production of the fully packaged Are You Awake cassette!

This is the first Bride cassette since the 1990's!
RRT1662 BRIDE - ARE YOU AWAKE (cassette) 637405143850
ABOUT THE ALBUM
A few of the great albums are so crisp, so tight, and filled with so many great riffs they make fans think of them as greatest hits albums.  Boston's debut, Metallica's Black Album, Deliverance's Learn, Black Sabbath's Paranoid, and Led Zeppelin's IV come to mind.  Bride already had an album like that - one that stormed into the hearts of fans with reckless abandon - it was called Snakes In the Playground.  These albums are simply so good in every way, people think of them as a greatest hits collection - even though they are cohesive rock masterpieces. Are You Awake is one of those iconic albums with one hit after another. 12 tracks in all - fans will be treated to a Greatest Hits package of all new Bride songs! This is the band fans have come to know and love, but these songs, these tracks, these lyrics, these riffs, these unrelenting vocals - they are such masterpieces, we don't want to compare them to any previous Bride albums (a first, right!). Many wondered if Bride had peaked with Here Is Your God (2020), as it was hard to imagine the band growing and improving on such a perfect album, yet Are You Awake shows fans the artistic creativity of Bride is a never ending stream of God-given talent.  Available on CD (Silver and GoldMax), blue cassette, and black vinyl - and check all the listings and bundles for details - a classic album like this should be revered and celebrated. Albums this strong are remembered for a very long time. Could this be the last Bride album ever???? If it is, they are going out on top! Don't forget you can get the other two tracks recorded for this album on the 6-track Bride CD Eyes Wide Open.  
Track Listing
1 Ain't No Loser
2 I Want to Live Again
3 We're All Going To Die
4 Hammer Down
5 12 O'Clock Apocalypse
6 Under My Skin
7 On With The Show
8 Are You Awake
9 Trippin'
10 All I Wanted
11 Human State
12 Pull The Trigger


Ain't No Loser/I Want to Live Again/We're All Going To Die/Hammer Down/12 O'Clock Apocalypse/Under My Skin/On With The Show/Are You Awake/Trippin'/All I Wanted/Human State/Pull The Trigger
ANGELIC WARLORD REVIEWS

Bride has long ranked among the standard-bearers within the blues based hard rock community, and that's still true today.  The veteran Louisville, Kentucky based act founded by brothers Dale (lead vocals) and Troy (guitars) Thompson traces its musical pedigree actually to straightforward heavy metal and its Pure Metal Records first three albums, Show No Mercy (1986), Live To Die (1988) and Silence Is Madness (1989).  Bride, however, did not discover its blues based hard rock calling until signing with Star Song Records for the iconic three to follow in Kinetic Faith (1991), Snakes In The Playground (1992) and Scarecrow Messiah (1994).  Whereas the group might have went on to stray from the musical beaten path with styles ranging from the acoustic rock of Drop (1995), modern rock to The Jesus Experience (1997) and even rap metal on Fist Full Of Bees (2001), it never failed to revisit its hard rock roots.
Hence, the musical direction to the successive string of turn of the century comeback albums: This Is It (2003), Skin For Skin (2006), Tsar Bomba (2009) and Incorruptible (2013).  No doubt, the aforementioned are solid as it gets, but Bride elevated its game upon signing with Retroactive Records to release in my opinion what ranks among three of its finest albums to date in Snake Eyes (2018), Here Is Your God (2020) and its May of 2023 most recent offering Are You Awake. 
How do I compare the three?
Snake Eyes 'leaves little doubt as to how (Bride) re-captures its prime Snakes In The Playground like form' as a result of each of its songs '(bringing) that unique or memorable trait to allow it to hold up on its own and separate itself from the rest' (quoting the 90% Angelic Warlord review).  On Here Is Your God, Bride '(does not) forsake its venerated hard rock ways' found in how it yields 'strong facets of bluesy fortitude' but also ups heaviness by '(adding) a metal (guitar) edge' (95% review).  The 2020 Angelic Warlord album of the year recipient further shines in the area of songwriting '(from how) there is a wealth of quality material here'.
Are You Awake builds upon such strengths by maintaining the musical consistency to Snake Eyes and Here is Your God, while reinforcing a similar at times hard rock and others metal based guitar sound.  Where Are You Awake separates is in the area of production from pinpointing an added level of refinements found in crisper guitars, transparent bass and more presence-filled drums.  Not that Snake Eyes or Here Is Your God in any way sound bad - both are quite well produced in their own right - but Are You Awake takes things to the next level in this regard.
Albums first two tracks "Ain't No Loser" and "I Want To Live Again" initially appeared on the April of 2023 Retroactive pre-release EP Eyes Wide Open, which also includes two exclusive tracks recorded during the Are You Awake sessions and one each off Snake Eyes and Here Is Your God.  Former represents a quintessential Bride barnburner to see high-energy tempo and authoritative hooks combining with cowbell and closing honky-tonk piano, while latter takes a similar heading with the intense demeanor and ardent fervor to match but separates with a touch of pronounced low-end groove.  Troy decorates each with his signatures (not to mention quite accomplished) blues based lead guitar.
The emboldened inclining maintains on the subsequent three.  "We're All Going To Die" impresses with its rumbling 'whoa-whoa-whoa' backing vocals, implacable tempo and some of albums most immediately catchy hooks and "Hammer Down" by aligning a blues soaked disposition and heavy hitting riffs not unlike Snakes… track "Fallout" with a double kick drum speed based mentality.  The two find Dale shining with his recognizable raw and earthy mid-ranged vocal abilities.
"12 O'Clock Apocalypse" ranks with this reviewers choice tracks.  It begins to heavy set bass ahead of the strident guitars to power its distance, thickset and weighty for its stringent verse sections but breaking out for full on aggression upon acquiring its starkly driven refrain.  With its unadorned intensity, this one would sound at home on Snakes In The Playground.
"Under My Skin" follows with a frenetic joining of furious tempos and tempestuous hooks as Dale snarls with the best of them- you will be challenged to keep the quirkily engaging 'you're at it again, you're under my skin' chorus out of your head.  In similar vein is albums precipitous title track, with its boisterous momentum and reverberating vocal melodies- "Are You Awake" might not be the catchiest but its churlish temperament cannot help but draw in.  Of particular is now Troy lends classical instrumentation to the instrumental moments of former and Greg Campbell a virtuoso bass line to latter. 
Bride exhibits a melodic side to its songwriting on "On With The Show", a smoothly flowing hard rocker to build slowly until a cacophony of engaging riffs and harmonies take over carry the remaining stately span.  If I suggest there is a slight modern The Jesus Experience like feel to the song in no way is that a critique.  Likewise, "Trippin'" might be albums most commercial with its supremely engaging melody and beguiling bass line, but it does not forsake muscle as found in the muscular guitars to burst forth periodically.  I am reminded of Snake Eyes cut "Lost In A Song".
Lone ballad "All I Wanted" brings needed ingredients in the form of acoustic guitar, mandolin and cello to extent classic Bride ballads "I Miss The Rain" (Snakes In The Playground) and Sweet Louise (Kinetic Faith) come to mind.  Any ballad inviting such comparison is obviously good; hence, I hope I am not out of line to suggest it is somewhat formula, but impression left is that Bride might have played it somewhat close to the vest.  A better choice might have been Eyes Wide Open exclusive track "Not As Bad As It Seems", which while also a ballad, in my opinion see Bride stretching further from a musical standpoint.  When factoring how second exclusive track "Draw The Line" is every bit album worthy, one cannot help but be amazed at the wealth of quality material Bride put together for Are You Awake.
Album closes to a pair of Bride style slammers in "Human State", an exhilarating transitioning between engaging guitar riffs and periodic excursions into slower acoustic territory, and "Pull The Trigger", reveling in a pensive heaviness to see slugfest guitars and chaotic rhythms collide to make a statement every bit aggressive as the songs title.  Of note is the practiced work of holdover timekeeper Alexandre Aposan, whom also was part of the Bride roster for Snake Eyes and Here Is Your God.
Bride joins the ranks of eighties contemporaries Stryper and Saint by proving that like fine wine veteran bands only get better over time.  As for Are You Awake, it presents with a choice selection of songs and backs it with one of the finest production efforts of the various comeback albums.  Every bit notable is the emphasis on a heavier sound - Troy Thompson is a monster guitar player - and the bluesy, referencing Dale Thompson's soulful delivery.  If a fan of Bride then do not hesitate to pick up Are You Awake as a potential album of the year candidate, but while you are at it also get Eyes Wide Open for the pair of top notch exclusive tracks.  Best manner in which to close would be to express appreciation that Bride is not just making music after all these years but (along with as noted Stryper and Saint) that which is of such high quality.
Review by Andrew Rockwell
Track Listing: "Ain't No Loser" (3:52), "I Want To Live Again" (4:27), "We're All Going To Die" (4:05), "Hammer Down" (3:52), "12 O'Clock Apocalypse" (4:18), "Under My Skin" (3:57), "On With The Show" (4:20), "Are You Awake" (4:07), "Trippin'" (4:27), "All I Wanted" (4:19), "Human State" (4:07), "Pull The Trigger" (4:10)
Musicians
Dale Thompson - Lead Vocals
Troy Thompson - Guitars, Piano, Violin, Cello and Mandolin
Greg Campbell - Bass
Alexandre Aposan - Drums